Time to frolic with our fuzzy feline friends with this list of the best cute games for cat lovers!
As if kitties weren't already cute enough, getting to interact with them in the digital world always seems to be just too cute for words. Whether they are just doing their usual dismissive thang with all that sass, or guiding you with the deep wisdoms of an unhindered stoic, cats always make for either a great addition to a game, or even the centerpiece of a grand adventure.
Here are some games that I have found that fall into that category, but also bring some extra cuteness to the table.
Calico
This project started with a love for magical girls, cats, and a want to create a game that's light, pink, cute, fluffy, and feminine. It also incorporates everything that's enjoyable from a simulation game like Animal Crossing (furniture, decorations) but the animals will not leave/die, the shop will never close and the crops will not rot. The objective of the game is to make the town's cat café active and full of cuddly creatures again such as cats, deer, raccoons, dogs, turtles, red pandas, foxes and more! For more Calico info head over here.
Cat Quest / Cat Quest II
Cat Quest is an open world, action adventure RPG set in a world of cats, developed by The Gentlebros. The Cat Quest page on the Nintendo website (which is full of cat puns) explains how your player's sister is kidnapped and you therefore embark on a journey to save her from the evil Drakoth. Available for only £9.99 on the Nintendo eShop, Cat Quest for Switch is a purr-chase your bank account won't hate you for!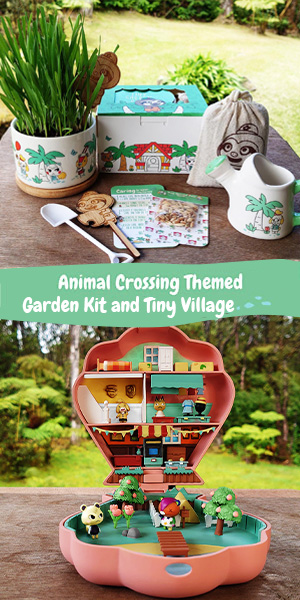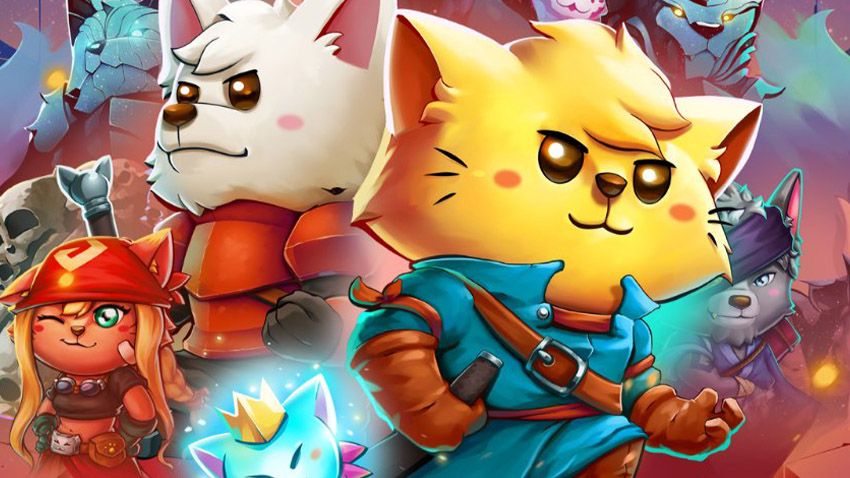 Snacko
Snacko is a farming simulation game developed by an indie studio called bluecurse, based in Vancover, BC, Canada. The founders, husband and wife Jordan and Erisa, wanted to create a world "where cats rule the land" and so the project began in 2018. Snacko is expected to release sometime in the year 2021 for PC and Nintendo Switch. Get some more news on this cat-tactic game!
Night in the Woods
Night in the Woods is an autumnal themed indie adventure game. Highly relatable to many, the game shows the crumbling former mining town of Possum Springs. After the protagonist, Mae Borowski drops out of college and returns to her hometown, she finds things as gloomy and hopeless as ever. But this time there's something more. Strange and eery occurrences are happening. And there's something in the woods. This charming game with beautiful music can be purchased for only £17.09 on the Switch eShop.
Mineko's Night Market
Mineko's Night Market is a cute cat-themed upcoming game for PC, Mac and Switch by Meowza games. You play as Mineko, a girl who has just moved to a superstitious island overrun with cats. The aim of the game is to find materials, craft items and sell them at the Night Market. You can befriend villagers, fish, undertake quests, play mini-games, plus more! Whilst it was initially hoped that the game would be released in late 2018, its release has now been pushed back until 2020.
Little Friends: Cats & Dogs
Little Friends: Dogs & Cats is a pet simulation game for Nintendo Switch. The Nintendogs-esque game is set to be released in Japan on 6th December. The game allows players to reside and play with cats and dogs with "lifelike models, textures, expressions, and animations."
Stray
STRAY originally started off as a concept called HK_Project. The premise being that players explored a strange/modern city as a stray cat. The few images and gifs that were floating about the internet became pretty popular and piqued the interest of many. A few years on, after many had forgot about HK_Project due to radio silence, the game made a surprising reappearance. On June the 11th 2020, an official announcement confirmed that the game, now entitled STRAY, will definitely be released. Even more excitingly, the game seems quite close to completion.
Cattails
Developed and published by Falcon Entertainment for PC, Mac and Linux on December 1st of 2017, the game has garnered very 'paws-itive' feedback since its release. Through the eyes of a cat, Cattails allows players to hunt for food, interact with other cats, gather herbs and explore an expansive world. Kotaku have said that "Cattails looks like Stardew Valley, except cats." and IGN have said that Cattails is "an adorably silly game, but one that's also a lot of fun." Stardew Valley is arguably one of the most popular and beloved indie games among fans of the genre. Mixing the lovely farming game with the cuteness of cats just sounds like a lot of fun to me!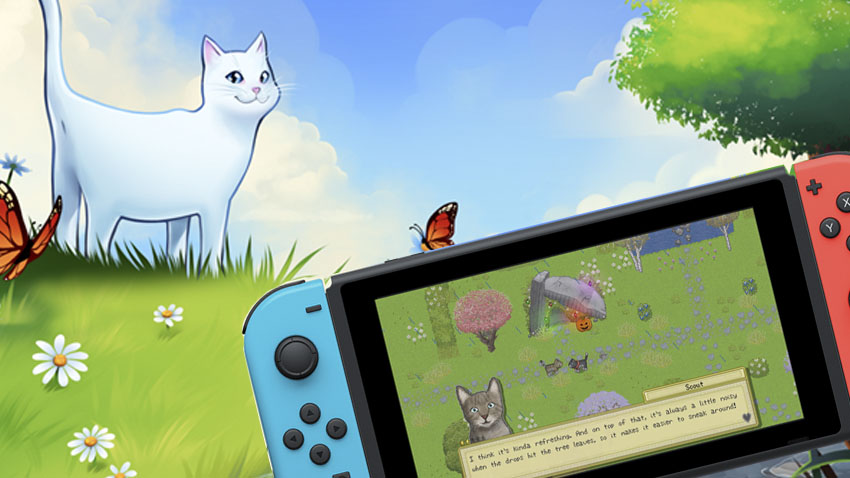 A Street Cats Tail
Originally released on mobile and late on Steam, A Street Cats Tale is a slightly darker RPG that puts you in the role of a lost young cat. You must travel around the city, and meet all kinds of different individuals, in an effort to stay fed and find sanctuary. The game features a wide variety of NPC's to interact with, each with their own stories to tell. How you interact with the world will also effect how the game ends, with over twenty different ending to experience.
Catadel
Catadel is a game about creating and growing a wonderful and productive town full of whimsical kitties. Each individual cat will have their own personality, desires, needs and general state of being. The well being of your towns inhabitants is of the utmost importance, so it is paramount that you fully engage with your community. Seeing as how one of the devs was an engineer for the The Sims, there even be an especially intuitive interaction system in the game, to help keep all your cat neighbors happy.
Unfamiliar
Unfamiliar is a relaxing fantasy adventure game where you take the form of a cat-witch who sets out to acquire magic ingredients from storybook worlds to craft items and create enchanting costumes. Explore enchanting storybook worlds and collect magical ingredients to craft costumes in Unfamiliar, a beautiful fantasy game coming to Steam on December 13th, 2019! Oh, and did I mention that you get to play as a magical cat!? Unfamilair is developed by Mana Tea Games, an indie game studio based in Melborne, Australia.
Peace Island
Starting out, you'll be playing as the cat named Elizabeth. The day before, she was was coaxed into her pet taxi and dreading a trip to the veterinarian. She never sees the vet, though, instead falling asleep. When she awakes the next day, her human is nowhere to be found and the door is open. Throughout the game, you will meet 8 other cats. You'll need to gain the trust of these cats and eventually gain their friendship. At different points, you will control each of the different cats. Each one has unique strengths, weaknesses, and roles. More info.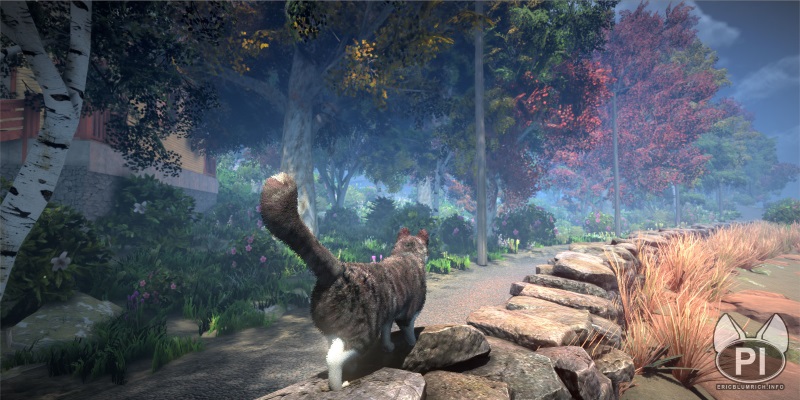 Inbento
Games that revolve around cats doing anything are sure to be just about as cute as it gets. Throw in a little bento box preparation and you have the recipe for an absolutely darling mobile game. Inbento is a little puzzle game about kitty-cats packing lunches, bento style. The object of the game is to match your lunch with the example given, the ultimate goal being to provide your family with wholesome nutrition. More info.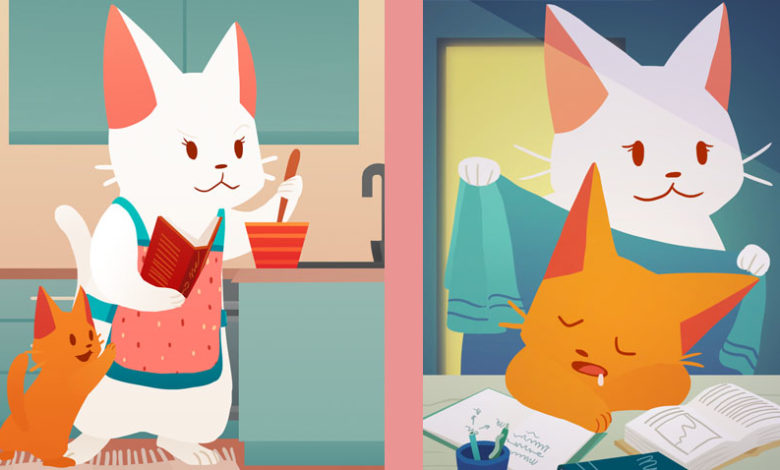 Meow Motors
Meow Motors is everything you would come to expect from a Kart Racing game. You drift and turn in hopes to claim the victory and much like Mario Kart you can also equip weapons to make your opponents life just a little harder. In Meow Motors every cat has its own kart that you can use to speed through the many tracks. There are also a total of three different game modes which you can compete in. Drift, in which you have to drift as best as you can through tight corners, Strike where you will need to destroy as many frags as possible and Circle Race which is the traditional racing mode.
The Good Life
Play as Naomi, a journalist from New York who moves to a backwoods British town called Rainy Woods in order to pay off her massive debt. The only way for her to escape from debt hell is to take pictures of happenings in the town and report on them. Of course, 'the happiest town in the world' is not your average town… The inhabitants of the happiest town in the world are some of the most bizarre people you'll ever come across. You'll live alongside them as you solve mysteries and experience a hearty helping of craziness. We're sure that you'll eventually come to love all the mystery, horror, and good old charm that this town has to offer. More info.
Pet Hotel
In Pet Hotel, there are 5 different types of pets, with many colors and breeds between them. You can spend hours picking and choosing the perfect animals to have about your hotel. This title offers everything you'd expect from a quality pet SIM, including a ton of different interactions with the animals, as well as loads of toys and entertaining items for the each creature! More info.
I and Me
I and Me is a platform puzzle game developed by Chinese studio Wish Fang and published by Ratalaika Games. It was released for Nintendo Switch in Japan and PAL regions on July 6, 2017 and in North America on July 13, 2017. Controlling two cats simultaneously, the objective of the game is to get them both safely to the end of each level. Whilst initially fairly easy, having two characters perform exactly the same action makes it increasingly more difficult to complete the game's 92 levels.
Did I miss any?
These are just the cute games involving cats that I could find. If you know of any other cute cat games, please let me know in the comments section!!