Animal Crossing
Rumored And Confirmed Features Heading To Animal Crossing: New Horizons
A recent Animal Crossing: New Horizons summer update trailer has confirmed some features that fans have asked for from the start. Additionally, it also contained some unexpected things to anticipate in the July 3rd update. However, there is also strong evidence from dataminers and characters' dialogue to suggest even more exciting additions.
Nintendo have already confirmed that New Horizons will receive updates for many more years, meaning that things players would like to see in the game still have a chance to be introduced. So without further ado, here are some rumored and confirmed features heading to Animal Crossing: New Horizons.
Confirmed Features:
Starting off with the confirmed features to arrive in the July 3rd update is sea swimming and its related activities/items. Here is what you will be able to do upon completing the aforementioned update:
Obtain a basic wetsuit from Nook's Crany for 3,000 bells (from the tools section of the shop) to take a dip in the ocean
Acquire a more slim-fitting style wetsuit from the Nook Stop terminal for 800 Nook Miles
Receive a free snorkel upon updating your game on July 3rd. Whether they are purely cosmetic, or have a function is not yet known. It is believed that you will receive the snorkel in your mailbox as a reward after the update
Choose from several different colored snorkels at the Nook Stop terminal for 500 Nook Miles each, according to the official Japanese Nintendo website. Red, yellow, and blue snorkels have been spotted in official screenshots so far.
Jump (or somersault) into the ocean, swim around, dive for sea creatures, and maybe even receive some wise words "maaaaan"
Donate sea creatures such as sea stars, sea anenomes, spotted garden eels, plus more to the museum
Any donations will be exhibited in the aquarium section of the museum alongside the fish
Pascal the 'philosophical' otter will make a return and might be encountered whilst you are diving for deep sea creatures
Pascal may request to trade some of any creatures you find in retunr for DIY recipes for furniture items
The pretty mermaid-themed furniture introduced in Animal Crossing: New Leaf returns in the form of the DIY recipes obtained by Pascal. Whilst the names of individual pieces of furniture have not yet been announced, you can view a list of the types of mermaid furniture here.
Gulliver has seemingly turned into a pirate… (Nobody even knows what's happening here, it is Gulliver after all…). Sailor, astronaut, pirate, make up your mind birdbrain! And get a Sat Nav! Please!
'Wave' 🌊 (sorry) one of the free summer update will be available on July 3rd. The second part of the free update will be downloadable at the beginning of August 2020.
Rumored Features:
Ninji, a dataminer who has taken to Twitter to share his Animal Crossing: New Horizons theories, believes the following features will eventually appear in an update. I am inclined to believe him, as he was spot on with the Museum art gallery, the 'return' of 'Jolly' Redd, and now the ability to go swimming.
According to a 'leek' 💁‍♀️ of Ninji's, players could be able to plant vegetables in a future update. If he's correct, we may soon be growing tomatoes, wheat, sugar cane, potatoes (Henry is disgusted and appalled FYI 😂), carrots, pumpkins, and potentially more. 🥔🥕🍅
Ninji added that the vegetables you grow can be sold, but more importantly, could play a part in an exciting new gameplay feature. Fans may soon be able to prepare dishes to help with stamina or sweeten up islanders with gifts. Sound like Stardew Valley anyone? 😜🌾🍽️
This brings us onto the possibility of seafood. The summer update has obviously now confirmed deep sea creatures. However, a short while back a datamine uncovered a 'Seafood' Critterpedia file containing 33 items not currently in the game. Therefore, if a cooking feature was implemented, it seems reasonable that seafood could be part of it.
Correct in regards to the art gallery museum upgrade and return of the shady NPC Redd, dataminer Ninja believes that the museum still has more to give. If correct, we could be seeing a museum gift shop, and two standalone museum-related buildings. These are thought to be a cafe (which will hopefully mean the return of Brewster), and a building featuring a Gyroid section! Naturally, this would mean the return of the Jedi slightly creepy gyroids.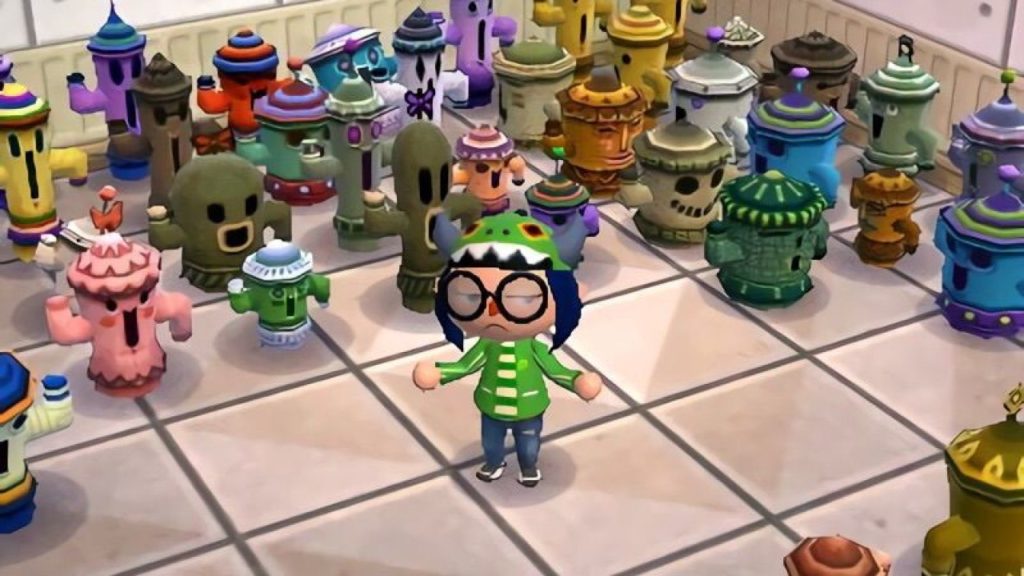 And on the topic of buildings, let's talk shop(s) 🛍️. Within the game's code, Ninja discovered files suggesting shops/buildings such as a gallery, a real estate agent, a gardening store, and the aforementioned museum shop. Could the addition of a real estate agent mean the return of Kyle? Or maybe his niece Lottie? If so, this guy will be displeased: 😂
The firework art that features at the end of the wave 1 update suggests that the summer Fireworks Show could be coming back with a 'bang' 🎆. I'll let myself out. 🚪🚶‍♀️