Aside from the sales Steam puts on throughout the year, Next Fest is probably one of my favorite times of the year. Steam Next Fest happens three times a year and is often the first time a demo is available for a game. Plus, it's always chock full of various demos to grab, and this round has been no different. I think I downloaded over 20 different demos! I won't bore you with all of them, though. Instead, here are my top five favorite demos I played.
Moving In
Moving In is a cozy, relaxing interior design game. You've just moved to a new house, all of your belongings are out front by the moving truck, and now you get to take them inside to arrange them however you wish. Arrange the bedroom to make it comfy and perfect for sleeping. Decorate the living room to be as inviting as you can. Even load your groceries into the fridge! With item locking, surface snapping, item rotation, and a variety of decor items, Moving In offers a place where you can let your creativity flow. And, with no challenges to complete, no specific goals to meet, and no timers to compete against, it is the perfect game for just hanging out and decorating a home.
I enjoyed the simplicity of Moving In. You pick up an item, you put it where you want. Maybe rotate it some to get a better angle, but that's it. You're not pigeonholed into placing things in a specific way to meet a goal. You aren't rushing to do it as fast as possible. You just get to decorate and relax. Even the color palette is pleasing. It's not too dark or too bright. Everything works together to make a beautiful game.
Heading 2: Everafter Falls
Everafter Falls is a humorous little farming and life sim where you awaken in a new town. You're surrounded by anthropomorphic animals, who explain to you that the past life you remember was all a simulation. You've supposedly been here before, but you have no memory of the place. That's ok, though. Your neighbors are more than welcoming, and patiently explain things to you, including how to restart your farm!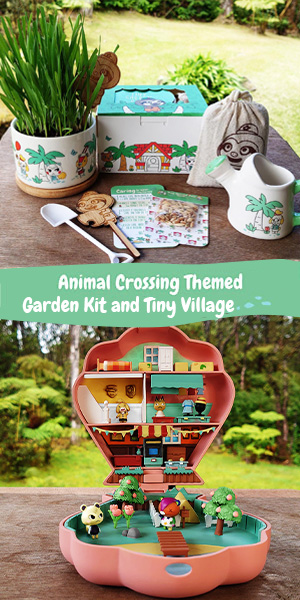 With the help of your pet, till the earth, plant some seeds, water them, and eventually you'll have crops to sell. You'll even be able to employ the help of drones to automate your farm, too, so you can adventure through the dungeons with no worries about your farm. Of course, you'll be able to fish for a variety of fish, which you can donate to the aquarium to revitalize it. Or, go forage for a number of different items to use. Maybe complete some quests while you're at it, too.
I found Everafter Falls to be just gorgeous and adorable all at once, but what really drew me in was the humor. It immediately throws out hilarious dialogue and cements the animal townspeople are quirky and entertaining. It helps set it apart from other farm and life sims. Of course, the beautiful scenery and cute villager designs help set it apart too. Having a demo is a great way for people to decide if they like the game and will buy it, but not all demos achieve greatness. Heck, I played some that left me bewildered and unimpressed. However, Everafter Falls quickly made its way to my Wishlist with its refreshing characters, but familiar gameplay. I'm always chasing that cozy farm sim feel that Harvest Moon and Stardew Valley left me with.
Little Kitty, Big City
Little Kitty, Big City is about a little black cat who gets lost in the big Japanese city it lives in, and they're trying to get back home. You play as this adorable kitty as it explores the charming neighborhood alleyways and the bustling thoroughfares of their city, all while trying to make it back home. Befriend other animals and complete quests for them. Nuzzle up to strangers or even trip them and steal their phone! Hunt down cute little hats to wear, and knock over people's potted plants. Cause chaos or simply find your way home, the choice is yours.
I have been impatiently waiting for this game for a while now. Unfortunately, it's not set to release until 2024, but I'm so excited that a demo has released for Steam Next Fest. And it was awesome. Wandering around the streets between homes, finding vending machines and a busy walkway full of business people was all very nostalgic. It is exactly how I remembered many areas of Japan when I lived there. Nevermind that this game gives Untitled Goose Game vibes, but you're a mischievous little kitty. I had an absolute blast with this demo.
Paleo Pines
Next up on my Steam Next Fest list is Paleo Pines, another game I've been anticipating for a long while now. You've recently moved to a charming little island called Paleo Pines, where you find a small town alongside herds of friendly little dinosaurs. Of course, you're not unfamiliar to people living alongside dinos. You have Lucky, your trusty parasaurolophus. With Lucky at your side, you'll not only revitalize your rundown farm, turning it into a lush dino paradise, but you'll explore the island and uncover the mysteries of Paleo Pines. Make friends with the quirky townspeople, as well as the friendly wild dinos, while you're at it. Each dino has a skill that can be helpful to you on your farm.
Paleo Pines seems to be all I'd hoped for. It's adorable, it's beautiful, and there are friendly dinosaurs, who have a function beyond just getting to look at them! I absolutely adored this demo, and getting to see a hint of what's to come. The island has some breathtaking views and easy gameplay, making for a perfectly cozy, relaxing play through.
Sticky Business
Sticky Business is the perfect opportunity to run a sticker business without the pitfalls of running your own real business. And it has the added intrigue of character stories! In this game, you get to design different stickers from thousands of design elements, including sparkles and holo effects. Set a specific niche for yourself, or go wild and sell all kinds of different types. Each sticker attracts all kinds of different customers, and each of those customers have their own stories and backgrounds to discover. Once you've designed your stickers, print them out, and lovingly pack them up for each order. Listen to your customer's story as you choose the perfect paper and filling to keep the stickers safe in the mail.
The demo for this game was wonderful. It's calming, relaxing, and has an easy to use interface. Designing stickers was as easy as dragging and dropping elements onto the design area. Even packing orders wasn't stressful. You see how many of each sticker you have, how many stickers an order wants, then get to choose from several different paper colors, as well as filling options. I'd love to get the full game so I can see the upgrades you can buy, and what goodies there are to add to each box!
Want To Give Them a Try?
This round of Steam Next Fest is currently going on, and will be until June 26th. Head on over to Steam to grab the demos for these games, and so many more. And while you're at it, add your favorites to your Wishlist to get notifications for them.
And of course, if you're looking for even more cute games, checkout Pixelshire, Dinkum, or even Coral Island.