Pretty Princess Magical Garden Island is the sequel to Pretty Princess Party, and just as cutesy, magical, and pretty as the other. Only this time, you play as a princess who's trying to revitalize a once flourishing island. You have full control over designing the island, as well.
Raise livestock to receive animal products to use in recipes. Grow crops and flowers. Manufacture other necessary items to craft beautiful dresses, hair styles, makeup, and decorations. Complete requests from visitors to earn money and points that level you up. You'll unlock new buildings, decorations, and wearables as you level.
Decorate and Garden and Decorate Some More!
Pretty Princess Magical Garden Island looks a lot like Animal Crossing, honestly. You're on an island that you get to design and decorate. You're in charge of fixing it up without help, and there's fruit picking and fishing to be done. Even the look of the map is Animal Crossing-esque. However, Garden Island successfully set itself apart, I think.
There's mining, farming, even animals to look after, and you have functional craft houses and restaurants that produce different kinds of food. There's a functional element to the game that gives me a reason to play beyond just decorating. Garden Island's livestock aren't needy, they're simply a building you place, you feed them, then they produce items. Farming is easy, too. You buy seeds, plant them, and wait! There's a cute little chime that plays when a crop grows to maturity, too. So don't go into this thinking you'll have a Stardew Valley or Harvest Moon experience. You won't. It's just what ACNH should have done with crops.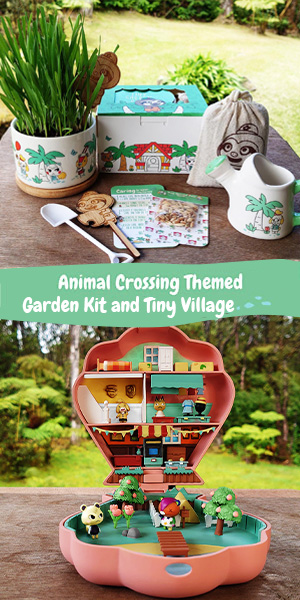 There is a timer to making items, however. The base time is five minutes, though they can be up to ten minutes. These timers apply to crops, the animals, crafting buildings, and restaurants. When I first encountered this mechanic, I thought it would get annoying fast. That wasn't the case, though. I found that there's enough to do around Garden Island that I'd get swept up in something else and not even realize five or ten minutes had passed.
The best aspect, and probably the main aspect of Garden Island, though, is the decorating. Decorate yourself, change your hair, slap on some makeup and hair bows, then go pretty up the island. It's almost overwhelming how many incredible options for decorating there are. From pretty and cutesy to gothic, to normal garden and cottagecore styles, you shouldn't have trouble picking out the perfect pieces to use. The excitement of this is a little offset by the need to craft dyes and other materials to use to buy the decor. However, you can place multiple of one building to have a whole crafting set-up going so it's really not a huge issue.
Final Thoughts
Despite the minor gripes, I really, really enjoy Pretty Princess Magical Garden Island. It's fun and simple and forgiving. I can pick it up for a little while to fill some time, or I can marathon it all day. I can create beautiful water themed areas or spooky gothic and Halloween displays. Or, if I'm feeling in the mood, deck the whole place out in bright pinks befitting a pretty princess. The purposeful crafting and fulfilling order really gives me a sense of accomplishment, too. It makes me want to play because I have to earn levels to unlock more stuff, and craft items to get that stuff.
Overall, I give this one:

You can find Pretty Princess Magical Garden Island on Nintendo Switch!