Animal Crossing
News
Next Animal Crossing New Horizons Update Adds Mysterious New House And New Spin On Events
Nintendo announced the next free updates coming to Animal Crossing New Horizons and it adds a mysterious new home and new spin on old events.
Nintendo just announced the next free updated coming to Animal Crossing New Horizons, while it is not the big update fans were hoping for, it still adds some new and fun content.
First of all the next DLC will put a slightly different spin on events we have already seen last year. This is according with a rumor from a while ago that pointed out that events may not be the same every year like they were in previous Animal Crossing games. Instead every year changes things up just a little bit to give more of an incentive for long time players to enjoy each event multiple times.
May Day (April29th – May 7th)
The first event we can look forward to enjoying will be held on a mysterious island that will feature a maze. You can pick up your May Day Nook Miles Ticket between April 29th and May 7th. Go explore the new maze!
International Museum Day (May 18 – May 31)
To celebrate international Museum Day Blathers will be handing out Stamp Cards that you can fill by exploring your museum for a special prize.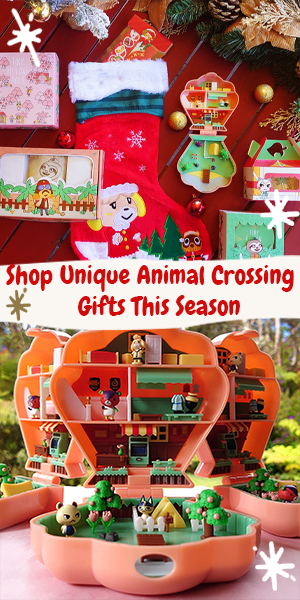 Wedding Season (June 1 – June 30)
Since Reese and Cyrus got married last year there is a slightly new event taking place at Harveys island every year celebrating the marriage of those two love birds.
In addition we can pick up wedding themed furniture from Nooks and the Able Sisters, these look just so cute!
Plenty of new Seasonal Items
There are plenty of new seasonal items during the month of May and June to celebrate various holidays. You can find the Mothers Day, Cheese Rolling and other collections in the Nook Shop app over the next two months.
Mysterious new home
Players have also spotted a brand new house design in the photos Nintendo released today. The home does not belong to any current villager. It is currently not known if Nintendo is also releasing new villagers with the next update or if this is simply a new design added to the game.
There have been many rumors towards a new Animal Crossing New Horizons Amiibo collection introducing new villagers. This could very well be a tease that new animals are soon coming to New Horizons!
As always we will have to wait for Nintendo to make an official announcement.
Animal Crossing New Horizons April Day Release Date
The next free update for Animal Crossing New Horizons will be available on April 28th.