Moving Out is created by SMG Studio in Australia (and in collaboration with Devm Games in Stockholm), an indie game development studio that won awards for their games such as Death Squared. This hilarious action, puzzle, and physics-based moving simulator game is a nice mesh of Frogger and Overcooked! I mean who doesn't want to become a F.A.R.T (certified Furniture Arrangement & Relocation Technician)? For now, you can wishlist the game on Steam, which has a release date window of 2019.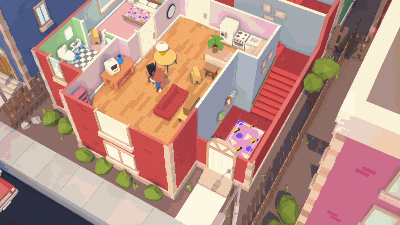 Complete the 50+ levels that will let you get into all sorts of shenanigans. For example, unloading cargo off moving planes, smuggling giraffes out of the zoo, and transporting goods to strange locales like haunted houses and outer space. Furthermore, customers appreciate prompt delivery so you can break down the walls, throw things, and use technology like portals and ray guns!
Local Co-op and Multiplayer
Be an independent contractor or team up with a friend! Moving Out features both local and online play across its arcade, story, and versus modes. Each level also adjusts the experience dynamically to account for the number of players on screen, thereby welcoming Smooth Move employees of all ages and skill levels. Moreover, with party mode you'll be able to compete for the highest score locally or against the community.
Character Customization
As you can see in SMG Studio's latest Tweet, you can change your avatar's hair and skin color. You can be blue, purple, or green; anything goes in this quirky game!
Check out their website here if you want to sign up and follow them for more information. For another wacky and cooperative game, check out our article about Knights and Bikes. If relocating and unpacking is your thing, check out Unpacking.