Hokko Life, created by sole developer Robert Tatnell, is one of my most anticipated indie games! Not only is Hokko Life a cute villager-life simulation game like Animal Crossing, it also brings a few new unique features to the table. Pun intended! The customization for Hokko Life goes quite in-depth with the capability to choose your character's skin tone, to shaping and sizing your own furniture!
The game is still in early development, and since my interview with the creator and my other updates, we wanted to summarize everything we know so far! Although there is no release date or confirmed platforms other than PC/Mac as of now, let's take a look at some older and newer screenshots which show quite an amazing progress!
Furniture and House Customization
All items you create for either inside your home, or that of a villagers', as well as outside, you will be able to scale the size, move, and rotate! The UI has gone through many improvements including pre-set shapes that are now nice and organized under menus. Under these categories you'll also find materials such as wood and metals to decorate with. So far you can use that painting tool to make T-Shirts, wallpaper, and flooring! The developer intends to add a option to cake decorating eventually.
Animal Character Personalities and Interaction
There's a train station in town and at various times during the day characters will hop off the train. After you've met a visitor a few times, helped them out with tasks, and become friends with them, you'll open up the option to ask them to move to town! When interacting with those villagers, there will be tons of new variety in the player and character conversations. Greetings will change depending on time of day and the weather. You can also wave at the villagers which puts them in a happy mood! Villagers will have visible reactions now; laughing, crying, getting angry, which can be triggered in dialogue.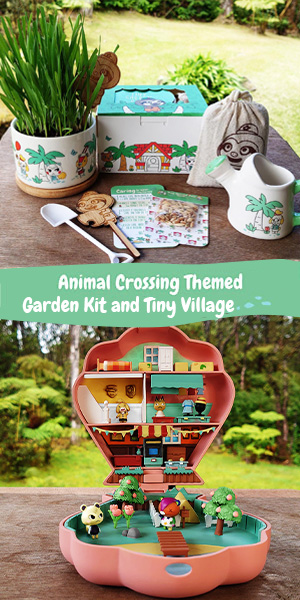 Shopping and Accessorizing
The interior of the shops have their entire inventory laid out and on display. You can walk up to each item and interact with them before buying. The contents of the shops change every day, so you can look forward to checking what's new as often as possible. Shopkeepers will have set hours and will otherwise have the store locked. The fashion store specifically recently got a make-over, both internal and external.
When creating your character, you can change hair color, eye color, skin color, and more! For now we get to see the most recently-added blue mohawks, buns, and buzzcuts! You can buy clothing at the above-mentioned fashion store such as hats, pants, tops, even headphones. Clothing is non-gender-specific, so you're free to wear whatever you want too.
Activities: Farming, Fishing, Chopping Trees
The world is set up as different areas, each with their own activities and feel. There's a dedicated town center for all your shopping needs, a lovely beach for night time strolls, some pleasant riverside walks, etc. Other core activities include farming with crops such as cabbages and radishes! Moreover, since a weather mechanic was added, rain can now water these crops. There are also the mines and forests areas that are randomly generated each day, full of lovely resources! Stuff your backpack full of these resources so you can later craft some items with them. I'm particularly excited with the adorable 3D fishing mini-game. It reminds me of Mario Party where you can scoop up some fish. There are even treasure chests added in the water that you can pick up too!
You can follow along what Robert's working on next with his Devlog right here on his website! Of course, I'll also be watching out for his monthly updates and will keep you posted on this adorable town-builder.