With the Kickstarter campaign of Potion Paws going live last Thursday, September 5th, 2019, the developers at Bitten Toast Games decided to throw an online community event within the multiplayer mode of Garden Paws. You may remember our review of the most adorable simulation RPG here and how we haven't yet had the chance to try out the online feature of the game. Since it has been one of our favorites this year, we backed its spookier potion-making counterpart Potion Paws and took part in the giveaways and party! Besides, if you own both games on Steam, you'll get crossover items in Creative Mode.
Online Multiplayer and Creative Mode
When you play online in Garden Paws, you have the choice to create a server room and allow up to 4 players into your world. They can help you farm, fight monsters in the dungeon, and pretty much anything else you can do in single-player campaign. This is also a particularly useful way to share rare items. Creative Mode is basically a sandbox mode where you already have access to every single item the game has to offer with some added bonuses which include: a jetpack and magic carpet to fly around, the lawnmower from the Summer games festival, confetti canon, and more! If you're looking for players to join you can always check out the awesome community of Garden Paws on the official Discord channel here.
Garden Paws Online Community Event
The developers Dan and Kristina are frequently live-streaming on Twitch showcasing gameplay, accepting requests from followers while they continue to add new items and features to the game, and occasionally put on a "creative challenge" out to the community. Meaning, they tell you the theme and you can use the tools and items at your disposal to build and paint anything you can imagine! As mentioned above, to celebrate the Kickstarter launch of Potion Paws, Kristina opened a Dev Server allowing up to 32 people to join and create something carnival themed. You can catch the full 8-hour stream on Twitch here, or see below for our particular experience!
Photo Gallery of Online Party
Since the theme was "carnival", fellow tater Joelle (that's me!) decided to join the fun and created her own Balloon Shop! In Garden Paws you can either have your character hold balloons in their hands while running around, or place them anywhere for decoration. As seen in the screenshots below, you can build foundations, fences, paths and place furniture, and then you can paint them with solid colors or patterns. There are even letters of the alphabet to use! I gave anyone who walked up to my booth a balloon because I was so proud of my contribution to this event.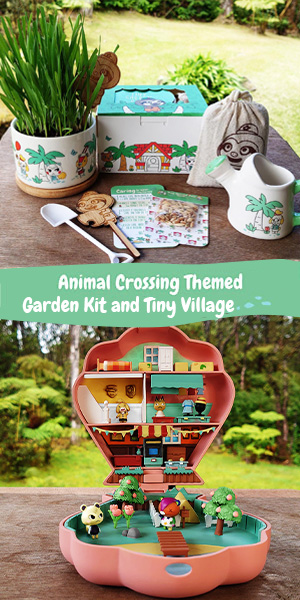 Next up we took a look at Kristina's (the dev) half-built Ferris-wheel using wood pieces and cabana benches. We all took the available seating for a wonderful photo-op overlooking the sea and islands.
Here we have a wonderfully creative way to build a merry-go-round using in-game farm animals and pets! The details here must have taken quite a long time! Everyone hopped on for a ride! I chose the glittering rare unicorn because I could; I got there first.
There were 3 major attractions that actually turned into little mini-games for all to try out. Someone took garden hedges and created quite the challenging maze, another created a huge 3-story glass house maze, and finally at the tallest point on the island you could glide through some hoops and bounce off of trampolines at the bottom. It took me a while to complete the glass house maze but I had some excellent cheerleaders by my side!
During Creative Mode, you still go through the day/night cycle so that all of your hard work saves at the end of the day. Every time we start the day, we end up together in a specific location which lead to shenanigans. This area of the gallery contains immature screenshots because, well, there exists a fart mechanic. "Look Ma! I'm farting on Twitch TV!"
We redeemed ourselves afterward by celebrating with many fireworks and confetti! This is what happens when you can place as many fireworks as you want before lighting them and being able to equip a confetti canon that you can fire off to your hearts content!
Here are a few other buildings created by the community, including a floating deck perfect for relaxing and enjoying the view. No worries about falling, we're all wearing jetpacks. We'd also really like to know who built that boat from scratch and how!
After a long day of partying, we all relaxed inside a forest sanctuary built by placing quite a few trees to form walls. I have my pet deer with me and I'm roasting some marshmallows by the fire.
I had a really fun experience with the online multiplayer of Garden Paws and would like to thank everyone that joined this party! Hopefully this brings even more players to the game and to this amazing community full of really great people. If you have any extra screenshots of this event, please feel free to share them with us on social media or comment/tag if you see your character. If you're just starting out, you can check out some of our Garden Paws tips for beginners here.