Robert Tatnell , developer of Hokko Life, is hard at work and adding new features and designs every day in his studio, Wonderscope, based in Stockholm. If you haven't already heard of this game, you can get caught up with us here. We here at myPotatoGames are so excited to play this game and wanted to share with you all of the progress that has been made thus far. Therefore, below we've given you the recap from the developer himself for 2018 and a look at his latest updates from March 2019.
2018 Devblog Recap
The main town area got built, at the beginning of the year it was a one-room demo, but now there's a whole town!
There are also mine and forest areas that are randomly generated each day, full of lovely resources!
Speaking of resources: resource gathering and crafting got in!
You have a backpack now to store stuff!
The game is now aimed at a PC/Mac release initially, so a bunch of control stuff got changed to fit this decision.
Fishing!
Player Customization!
Painting tool for making T-Shirts, Wallpaper and flooring!
Dig holes! Weeds!
Villagers can now move in if you're good enough friends with them!
Villagers give you tasks to do!
A whole bunch of new villagers got added!
I started getting sound FX into the game!
Recent Updates – Devlog 2019 Start!
Below are the updates from March which include: improvements on the tools for customizing furniture, improvements on conversations with the villagers, and new information on shop interiors and inventory, and more.
Customizing Furniture
The developer has been testing different "drawers" that contain all the pieces you can add to your creation; much like in a real-world workshop. Improvements to furniture creation were made by adding a very handy menu system so as to be able to categorize certain paints and materials.

There seems to be many options of material designs to work with and apply to your furniture which include: wood, metal, earthen, cushions, paint, and dyes. You will also be able to point and click anywhere, alternating between placing an object and editing it. As mentioned previously by the developer, you will also be able to scale the size of your own furniture when creating it. Moreover, you can see in the image that certain shapes are provided.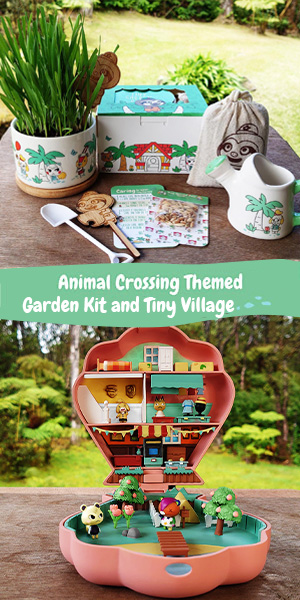 Dialog Options
Dialogue options are being reworked to give less of a "randomly generated" feel in favor of a more personalized approach. This ensures there's more interesting variety in dialogue than there was before by giving you a selection of replies.
If you're an Animal Crossing fan, then you probably enjoy chatting up the locals every day. Therefore, this new feature is sure to please! The overall dialogue system is still in the works but so far it's exciting to have the option to choose different text and get different options every now and again. The developer ensures that there will be a little more variety in the player and character conversations. You can also see that it's possible for you to change and create the outfit the characters are wearing and to take requests for items! One can only hope that they are also given audio of adorable nonsensical gibberish for dialogue.
Shop Interiors and More
The interior of the shops will now have all of their inventory laid out and on display. You can walk up to each item and interact with them before buying. The contents of the shops change every day, so you can look forward to checking what's new as often as possible. Shopkeepers will have set hours and will otherwise have the store locked. You can find them roaming the town or enjoying certain activities when they're not working. Robert Tatnell also added new animations for mining and fishing which you can read in more detail with the link to his official website here. There, you'll find all his devlogs which include all the details of his journey from 2018 to present.
For exclusive information about Robert Tatnell and Hokko Life, be sure to check out our interview with him! There's a lot of new information you will not want to miss!