Interesting August Game Releases on Switch and More!
With another month comes another set of video game releases. Of course, with new releases comes another list of games we'll be looking forward to. Usually, we like to focus on Nintendo releases, however, this month is a bit different. As such we'll be tackling these by release date instead of going by the system they're on. Without wanting to waste any more time, here are some August launch titles to look forward to.
">
Tacoma
This title is more of a story-based adventure game. You can expect it to work similarly to Dear Esther or Edith Finch. It seems there will be more of a focus on puzzle solving, here. As well as interactive bits to keep players entertained outside of the core story. You can pick up this interesting story of a group of six facing a crisis and the effects it has on their team dynamics. It will be available on Xbox One and Steam on August 2nd.
Flight of Light
Flight of Light calls itself a "rhythm racer" where in a similar style to Audiosurf, you move around a track to collect gems. Presumably, these gems affect the speed you move at, so collecting more should allow you to finish quicker. This title includes multiplayer so you can challenge your friends. You can pick it up on the Nintendo Wii U, PS4, and Steam on August 3rd! ($8.00 USD)
Slime-San
If you're a fan of rage platformers, Slime-San may just be right up your alley. This game seems to take a lot of inspiration from Super Meat Boy, in particular. You play a blob of slime that's been eaten by a giant worm and it's your job to escape. You can also unlock multiplayer games to play against your friends, so the game doesn't appear to be skimping on content.  Consider picking this rage platformer up on Nintendo Switch and Steam on August 3rd! ($11.99 USD)
Flip Wars
This multiplayer chaos is very simple at heart. Control the field to win. You flip panels by ground pounding and try to flip opponents or just take the largest number of panels. The game seems very light in terms of content, however, there are single player, local multiplayer and online modes. Flip Wars will be coming to the Nintendo Switch on August 10th.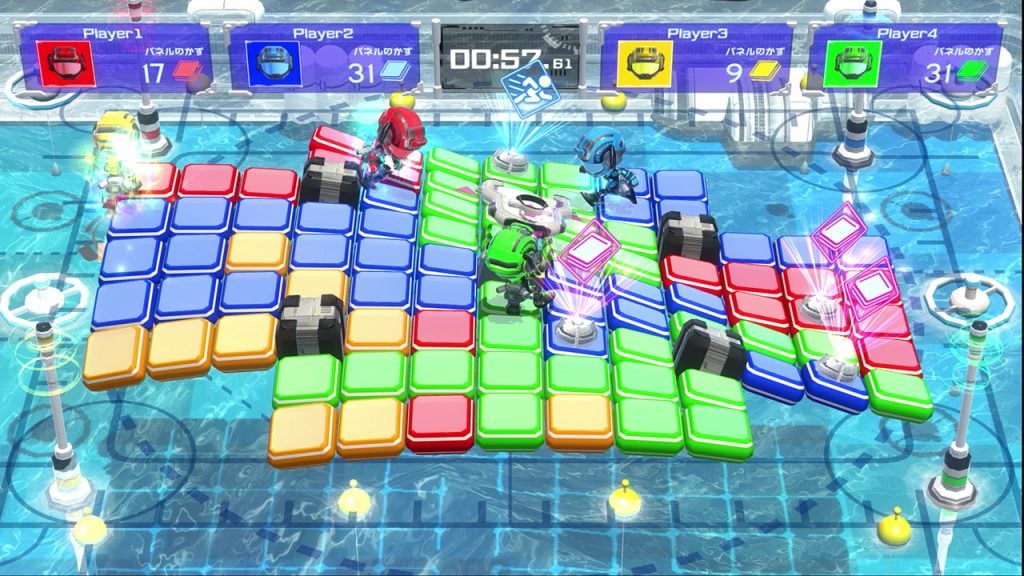 Sonic Mania
The long-awaited celebration of classic 2D Sonic gameplay is just around the corner! If you're a long time Sonic fan, this title is just for you. In case you're new to classic Sonic, this is a 2D side-scrolling platformer with a heavy emphasis on speed and flow in its level designs. Sonic Mania launches on Nintendo Switch, Xbox One, PS4, and Steam on August 15th. (The beautiful collector's edition can be pre-ordered now for $69.99 here)
Check out this gameplay trailer for Sonic Mania, if you're still not sure.
Nidhogg 2
Nidhogg was a fairly popular PvP indie title in which two players would fence each other in an attempt to make their way to the other end of the map. Now, nearly four years later, we're getting a sequel. While the core gameplay is largely the same, it only takes a glance to see the difference. Nidhogg was originally a pixel art title, but now they have more colorful and more detailed graphics on display. On top of this, the game will cycle players through a sword, a dagger, and a bow, each with their own strengths and weaknesses.Nidhogg 2 will be available on PS4 and Steam on August 15th.
Mario + Rabbids Kingdom Battle
If you've been following us through the Summer, you know we've been frantically covering the leaks and info dumps leading up to the E3 reveal of this Ubisoft X Nintendo collaboration. This real time strategy title plays a lot like X-Com or Disgaea, so most of the surprises will come from the wacky nature of the crossover. Mario and his friends team up with some Rabbids dressing as them to help fight off hordes of crazed rabbids and save the Mushroom Kingdom. Mario + Rabbids Kingdom Battle will launch on Nintendo Switch on August 29th! (Pre-order here $59.99 USD)
You can check out the new Mario + Rabbids Kingdom Battle trailer, if you want to see more. View combat trailer
Culdcept Revolt
This odd card-game-meets-board-game experience has a long history and very in-depth strategy attached to it. While it may be more geared towards the hardcore fans of the series, we'll still be sure to keep an eye on it. Any interesting developments will certainly be worth the time to talk about. Culdcept Revolt will launch on the Nintendo 3DS on August 29th. ($39.99 USD)
That about covers it. Of course, there are more titles coming out, this month. However, we felt like these were the ones that stood out the most. What do you think? Does anything strike your interest in our August launch titles list? Were there any games you felt we should have included that we missed? Feel free to discuss August launch titles in the comments below.