Lonesome Village is a relaxing puzzle-solving life sim where you play as the adorable Wes, a coyote. Wes is looking to solve the mystery of this empty village and the tower that popped up. You'll enter that tower to complete a number of different puzzles in order to free the villagers trapped on each level. As you do that, the story of what happened will unfold, and it'll be up to you to stop the evil that threatens it all. 
The Pros
There is no doubt that Lonesome Village is uber adorable. The art is wildly cute, and each character you save is some variety of animal. Each has a great individual design. Even the main character, who's a little coyote character dressed like Link. Even the overworld designs of each area you can explore are cute. Overall, this game is visually great.
The puzzle tower is a fun concept. You're tasked with rescuing the villagers of the world, and to do that you need to complete a puzzle on each floor. Completing the puzzle releases villagers from the statues they've been encased in. Sometimes it's just one character, sometimes it's a whole family of characters. The puzzles aren't super hard, which is perfect for having a relaxing game play experience. Some of them make you think harder than others, but none of them had me stumped for too long. I enjoyed the variety of puzzles, too. It wasn't repetitive rehashing of the same ones over and over. 
The day/night cycle doesn't affect things like sleep, either. I found that to be a nice touch. It adds ambiance and life to the world, but doesn't lock you into a specific way to play. There's no running to bed to beat the inevitable 2am pass out, like some other life sims!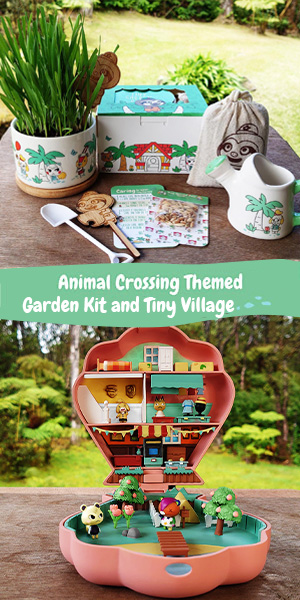 Coronya and Quests
I'm afraid that despite mostly liking Lonesome Village, my cons list is longer than the pros. True to early Legend of Zelda vibes, you're equipped with a mirror item that allows you to talk to your fairy companion, Coronya. This is a great way to have a reminder of what you were doing as far as the story goes, as there is no quest log. However, she likes to pop up from time to time at the shrine levels of the tower. These levels require you to find the item the shrine requests and place it there in order to open the door to the next floor of the tower.
Coronya likes to pop up on these levels to talk to you about what the item is and how to get it. That's cool, and often useful. However, she then returns to wherever she comes from, and must discuss EXACTLY what she just said, word-for-word, via the mirror. She's also adamant about telling you that you must save everyone in the tower, so don't forget to do that! It's all so unnecessary. The point of the game is to release people from the tower. And I certainly don't need an exact repeat of what was just said, right after it's said. I would have preferred a quest log.
Which brings me to the fetch quests you get from villagers. Lonesome Village's newly released inhabitants will have quests for you to complete. It's how you'll earn hearts to continue through the tower. Talk to a villager and they immediately launch into their quest, then it immediately opens your inventory so you can complete the quest, even if it's your first time hearing about the quest. Just be sure to write down what it is you're looking for if you go accept multiple quests. Again, there's no quest log to keep up with what needs to be done. It made for a frustrating time when I'd pick the game back up and had to go around talking to people to figure out where I was in my fetch quest endeavors. 
There is No Autosave and Storage is Lacking
I repeat, there is no auto save. Maybe I'm spoiled by modern games, but I expect autosave to be the standard in games these days. Having the ability to also save at will is great too, but autosave has saved me so much trouble over the years. Lonesome Village doesn't even have the sleep to save mechanics like Stardew Valley. Instead, you have to visit one of the statues scattered across the map to save. I don't have words for the frustration I felt when I thought I'd saved, but hadn't and closed the game. I was set back several floors of the towers, and several villager quests.
Backpack size is woefully tiny. Access to the storage chest isn't super convenient. There's a chest in your house, your tent, and in the tower elevator. Sifting through storage is fiddly, at best. Everything shows up in a line that you have to scroll through to find what you need. The backpack is the same way when turning in quest items. Plus, there is one hotkey slot, so you have to go into your backpack, choose the item you want to hotkey, then use the item. It makes switching tools cumbersome and slow. 
Final Thoughts
I'd still recommend this game overall. It's cute and chill. There's no rush to complete things, so you can play at your own pace. Plus, there's no stamina drain or health to lose, adding another layer for a stress-free experience. 
I'd rate Lonesome Village:
You can find Lonesome Village on Steam, Epic Games, GOG, Switch, and Xbox now!