We recently posted an article about Hokko Life's devlog 3 from July. In case you missed it, you can read all about it here. It seems the solo developer behind the adorable life simulation game is on the ball. This is due to despite being a solo game developer, he still frequently posts devlogs and actively answers questions on Discord.
But even more impressive is the amount of new features and exciting updates he shares in each devlog, with the August one being no exception. With updates and features such as gardening and expressions in the 4th Steam Hokko Life devlog, we just had to share the devlog's content. But before we dive into the game's 4th devlog, here's some background on the game and a synopsis of what we know so far!
About Hokko Life
Hokko Life is described as a 'cosy, creativity filled community sim game'. The game is being developed by Robert Tatnell who runs his own indie game dev company, Wonderscope. Initially, Wonderscope intended to both develop and publish Hokko Life. However, this is an understandably big feat for one person.
Therefore in April 2020, Wonderscope revealed that they would 'team' up (sorry not sorry) with Team 17, who will now publish Hokko Life. Team 17 are notorious for publishing highly regarded games such as My Time at Portia, Overcooked, and Yooka-Laylee. Initially, Hokko Life was expected to release on Steam later in 2020; The impact of COVID-19, however, could (like many games), delay this. The release date for the game on Steam is currently TBA. The price of the game is also not yet known.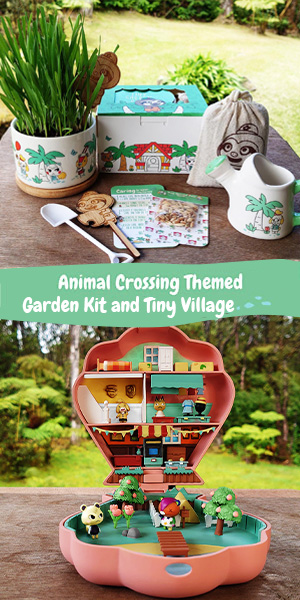 Hokko Life begins with your player stepping off of a train. Having taken over your very own (albeit a little dusty and old) workshop, you are free to craft and create to your heart's content.
The quiet village which you now call home needs your design expertise. Help create an endearing town for its inhabitants. Armed with paint and tools, you can design, build and decorate new homes for your new furry friends.

Players can craft materials and combine them as they wish. Combining them creates amazing new furniture and items for the town. By collecting flowers and mixing paints, you can then design wallpapers, flooring and even clothing.
With an abundance of choice, you can design items from fetching floral wallpaper to interesting urban-industrial furniture. Whatever your taste, with a workshop at hand, you have complete freedom whilst designing the town.
Hokko Life Devlog 4 – What's New?
Expressions
First on the list of developments in Hokko Life is the introduction of facial expressions. Robert updated the avatar's head shader to make this happen. With this new Avatar head mesh the team behind Hokko Life set up the texturing in a way that meant details on the face would be handled with different textures. This means that Robert can swap out individual facial features, such as a nose or a mouth, and provide different expressions. Robert also spent this month editing the head shader especially for this as well as adding three new emotions to Hokko Life, which include happy, straining, and winking.
Energy
Robert had been contemplating for a while whether to add a stamina-like system to the game. He decided to trial a first implementation of one this month in order to see if a stamina system suited Hokko Life. He gave a player a finite amount of energy that depletes when doing tasks such as chopping down trees.
When your energy is depleted, your player needs to rest to recharge. Taking a break only replenishes a small amount of energy, so you'll need to eat food or take a longer rest if you want to do more work. However, your energy bar will never be completely empty and therefore won't prevent you from working altogether. Robert wanted a nice balance: to reward players for preparing adequately before heading out to gather resources, but to not penalize them in the event that they do run out of energy.
Bridges
The next addition brought to Hokko Life by Robert is a bridge design blueprint. This gives players the ability to design their very own bridges and then place them out in the world.
Farming
Farming was one of the priorities for Robert this mont. He intended to expand a bit upon the simple pre-existing base.
He also decided to add fertilizer to the game;. Players craft fertlizer using the various resources found in the world. If you put fertilizer on tilled soil, it improves the likelihood of growing high quality crops. High quality crops can be sold for money and may occasionally be requested by characters. The fertilizer will only work on a patch of soil for a certain period of time and anything planted there during that timeframe has a better chance of being high quality crops.
Robert also added templates for two new characters. One of them is the farmer character who will induct you on farming and provide you with crafting recipes for your first pieces of equipment. When you're more adept at farming, the farmer sells a variety of seeds, as well as some farming crafting recipes. The seconf character provides your player with farming challenges. The challenges are essentially requests but with deadlines.
Sprinklers
And talking about making your farming life easier brings us onto the next update. Sprinklers. Robert added two types of sprinklers to Hokko Life. The first sprinkler waters in a ring, whilst the second waters in a line. You can own both of the sprinklers by purchasing the sprinkler crafting recipe from the farmer. The sprinklers can then can crafted with just a handful of resources and will hands down make your farming life a whole lot easier.
Gardening
Intended to tie in with farming, Robert recently added gardening to the game. With this new feature, players can grow plants and flowers in the world from seeds. Whilst plants and flowers did exist previously, they would sprout in random locations. Additionally, players couldn't really move them. As a result of the recent gardening update, players can now dig holes and plant trees and flowers as seeds. They are more low maintenance than crops too. Seeds don't need water and grow nicely on their own. Additionally, plants and trees are movable. (even whilst still growing). The only exception is big trees, which need to be chopped down if you want rid of them.
As well as allowing players to be more creative and have more control over their town, flowers serve another purpose besides looking pretty: They can also be used in some crafting recipes.
UI Stuff
Largely because of the new farmer character providing players with an abundance of seeds and other goods, Robert decided to make a system in the UI where players can see detailed information about items. This new feature is more helpful than you might think. One example is that players need to know how long a seed takes to grow. A second example is that players need to know the required resources to craft a recipe.
Piece Packs
And the final new addition to Hokko Life is Piece Packs.
Once you are further into the game you will unlock more pieces. Pieces are used to design items with. In August, Robert implemented the necessary things to make this work. This brings us on to his introduction of "Piece Packs". Piece packs are essentially collections of pieces to use when designing. Piece Packs are unlocked as a bundle for a set price.
As Piece Packs are purchased items, Robert updated the Design Tool so the packs show as groups. He also added filter buttons. which allow the player to show or hide different packs based on the materials needed.