Animal Crossing: New Horizons is the first game in the franchise to not have seasonal events ingrained. To stop players from time travelling and experiencing seasonal events out of season, Nintendo have been introducing them via updates instead. Additionally, Nintendo haven't been very forthcoming in sharing details about Halloween in Animal crossing: new Horizons. Only confirming that there will indeed be a Halloween event, the Big N have been trick-and-no-treating players super early!
Jack Is Back
Jack is a visiting spectre-like character with a pumpkin for a head. Like Zipper (who would actually be a creepier king of Halloween), Jack has a relatively humanoid appearance, but is rather short. It is almost certain he will make an appearance in New Horizons due to the presence of his Jack-o'-lantern head in Nintendo's updates.
Shops Get A Spooky Makeover
Whilst we don't know a lot about what the Halloween event will entail, there are some things we know for sure. It has been confirmed (thanks to Nintendo Direct gameplay footage), that your island's shop exteriors will get a spooky makeover!
Are Animals Feeling Spooky?
Yes! At least enough to want to decorate the exteriors of their homes for Halloween. In regards to whether they will go trick or treating, we'll just have to patiently wait and see. In the meantime, there's nothing stopping us from getting spooky! Why not give your island a Halloween makeover with these awesome ideas?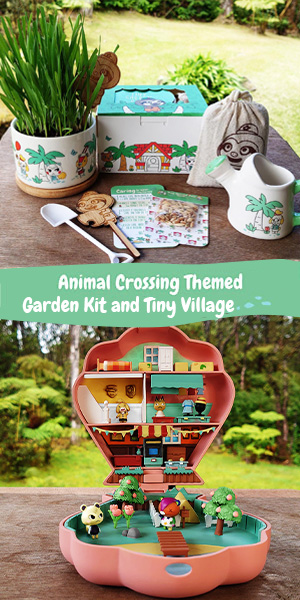 A Blast From The Past
Halloween varies slightly throughout the Animal Crossing series. However, there are some notable elements of continuity. These include:
Jack paying a visit on Halloween
Trading candy/lollipops for halloween-themed furniture
Costumes/masks
Running for your life from anthropomorphic animals Residents getting spooky
Residents getting spooked
That Halloween music that suggests you are about to see some freaky walking, talking Jack-o'-lanterns
This consistency throughout the series means that we are likely to see the above features in New Horizons also.
Halloween-Themed Furniture We Might See
Animal Crossing: New Horizons could see the return of the following furniture from the Spooky Series:
Pumpkin bed
Pumpkin dresser
Pumpkin lamp
Pumpkin shelf
Pumpkin cabinet
Pumpkin sofa
Pumpkin mirror
Pumpkin chair
Pumpkin style
Pumpkin watch
Pumpkin wall lamp
Pumpkin wallpaper
Pumpkin carpet
We could also see the return of the Creepy Series items introduced in Animal Crossing: New Leaf. The Creepy Series consists of the following items:
Scary Crystal
Scary cauldron
Horror Stone
Scary mouse stone
Scary skeleton
Scary statue
Scary coffin
Scary watch
Scary floor
Scary wallpaper
Tips Based On Past Halloween Events
Leave two free spaces in your inventory
Have one undesired item on your person
Do NOT have items in your inventory that you like
Do NOT wear clothing items that you like
If 'Jack' (residents dressed up as him) runs towards you, be sure to start running too; in the opposite direction.