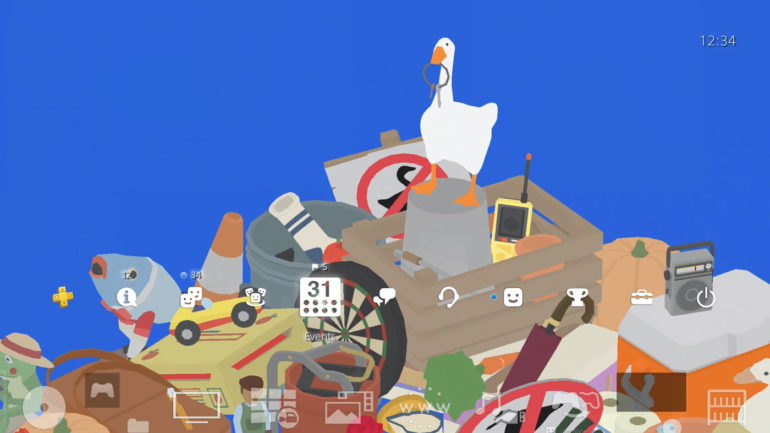 Quick Bits
Untitled Goose Game Out Today on PS4 with New Dynamic Theme
It was announced last week that Untitled Goose Game was coming to the PS4 and Xbox One on December 17th, 2019. Well now that day has come and with it, a new free Dynamic Theme created by Truant Pixel (in collaboration with House House and Panic) on The PlayStation Store here.
This hilarious new theme for the PS4 features the horrible goose on top of a large pile of stolen objects stacked in a pond. It also comes with some background sound effects and some honking text! Every now and again when you look up to see what that mischievous goose is up to, you can find it with things in its mouth such as keys, a fork, a rose, etc. It will also run across your screen so keep an eye on that foul fowl!
Of course, this makes me extremely jealous of the PS4 as I played my copy on the Nintendo Switch. Who wouldn't want to be greeted by this marvelous display of shenanigans every time they turn their console on? I'd love for the Nintendo Switch to have avatars, dynamic themes, or other such free content for my home screen! For now, I'm still going to download this theme for my PS4.
I'm also still lamenting the fact that I can't have Untitled Beaker Game. We can, however, have the best socks money can buy from the official website of Untitled Goose Game which you can check out here as a great gift for the holidays!