If you live in Japan, you might have already seen the new Detective Pikachu movie in theaters last weekend. For those of us living in the US, Canada, or UK, we have to wait until May 10th, 2019. Some countries may have to wait a couple days sooner or even several days later.
The upcoming live-action Detective Pikachu movie is based off the 3DS game of the same name. Play as Tim Goodman and team up with a talking Pikachu to solve mysteries around Ryme City. Furthermore, these strange occurrences happening around the town may or may not be related to the sudden disappearance of Tim's father.
If you're waiting in anticipation for this movie like we are at myPotatoGames, check out our list below of our top recommended games (in no particular order) that include plenty of detective work in order to solve crimes. Perhaps these games will scratch your itch for the mystery genre until you can see Pikachu in all his "Sherlockian" glory. All games are available to play now so happy sleuthing everyone!
Layton's Mystery Journey: Katrielle and the Millionaires' Conspiracy
Layton's Mystery Journey, developed by Level-5, follows Professor Hershel Layton's daughter, Katrielle. Solve puzzles alongside her talking dog Sherl and her friends Emiliana Perfetti and Ernest Greeves. When her father vanishes, Katrielle goes off in search of him, coming across various puzzles and mysteries along the way. You can play this game on the Nintendo 3DS now. However, you may want to wait as the game was confirmed to be released to the West on the Nintendo Switch this year.
Phoenix Wright: Ace Attorney Trilogy
The trilogy combines all three original games including: Phoenix Wright: Ace Attorney, Phoenix Wright: Ace Attorney – Justice for All, and Phoenix Wright: Ace Attorney – Trials and Tribulations. Although most of the action happens inside of a courtroom as you're a defense attorney, you're still tasked with investigating and finding evidence at the scene of the crime. You also have to discover who is innocent and who is guilty via cross-examinations. We've covered the game here and it's available now on the Nintendo Switch eShop.
Trüberbrook
Trüberbrook is set in rural Germany in the late 1960s. Play as an American physicist, Hans Tannhauser, on a vacation and discover why your notes of your dissertation on quantum physics have been stolen. As you begin to investigate this health resort and town you notice something odd is happening. Speak to villagers, travelers, and spa guests to get to the bottom of this mystery! Trüberbrook is available now for PC, PS4, Nintendo Switch, and Xbox One.
L.A. Noire
L.A. Noire (Rockstar Games) blends the breathtaking action with true detective work for an unprecedented interactive experience. Solve brutal crimes, plots, and conspiracies inspired by real crimes from 1947 Los Angeles. This post-war boom of Hollywood's Golden Age was one of the most corrupt and violent times in L.A. history. Search for clues as Cole Phelps, an LAPD detective, chase down suspects, and interrogate witnesses as you struggle to find the truth in a city where everyone has something to hide. If you want to watch the Nintendo Switch trailer, we've got that here for you.
Sherlock Holmes: Crimes and Punishments
Sherlock Holmes: Crimes and Punishments is developed by Frogwares and published by Focus Home Interactive. It's available for PC, PS3, PS4, Xbox 360, and Xbox One since 2014. This game makes this the oldest one on our list but it is definitely still a must-play crime-solving game. Step into the role of the most famous detective, Sherlock Holmes, and use his amazing talent for deduction.
The setting is in London and its suburbs in 1894 and 1895. The gameplay is largely focused on finding the right culprit and making the moral choice of absolving or condemning them. Furthermore, Sherlock Holmes is split into six cases of murders, disappearances, and thefts, written in the tradition of Doyle novels. We've also listed this game under Most Calming Games to Cozy Up and Help You Relax.
Thimbleweed Park
An economy crisis has hit Thimbleweed Park as well as a murder. Two FBI agents, Ray and Reyes, have come to solve the case. Switch between five playable characters and discover the secrets hidden in this town with a creepy and dark atmosphere (but still with a sense of humor). Thimbleweed Park is a point-and-click adventure game developed by Ron Gilbert and Gary Winnick for PC, mobile devices, Xbox One, PS4, and Nintendo Switch. Find out more about this game with us here.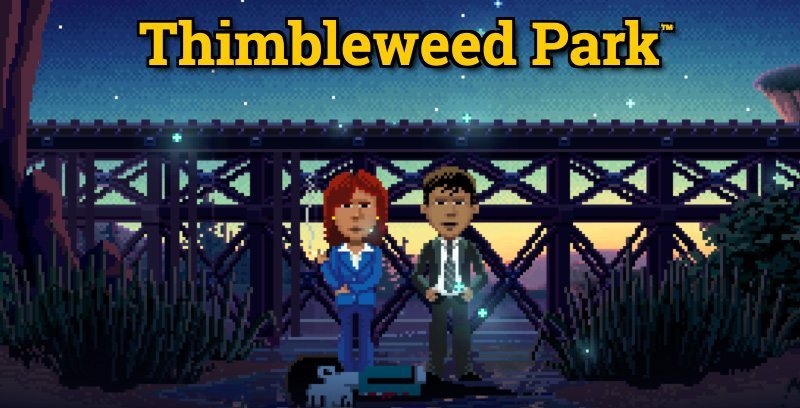 Oxenfree
Oxenfree, developed by Night School Studio, is a story-driven, supernatural adventure where choices you make affect the outcome of the game and your relationship with other characters. You play as Alex, a young teenager, who brings her new stepbrother to an overnight party on an island. That island used to house a military base but it was decommissioned. When Alex tried to tune an old radio, she inadvertently opened a dimensional rift. While you're all being haunted by ghosts, discover the secrets of the island and close the rift. This game might give you a bit of a "Blair Witch" vibe but is a lot less terrifying. See photos and more information about Oxenfree here.
What Remains of Edith Finch
The story follows Edith Finch as she makes her way through her family's old house that her late mother Dawn would never let her explore. This is because her mother chose to seal up all the doors in an attempt to hide her family from a curse that has taken the lives of many other family members in strange and mysterious ways.
Make your way through the house and discover the stories of her family members and how each of them died. This game will seem like you are merely just watching a movie as there aren't that many puzzles to solve but if you pay close attention, you may be able to piece together some clues yourself. We, myPotatoGames, have a review here for you in case you're interested in taking a look before playing!
Firewatch
Firewatch is a first-person simulation and adventure game developed by Campo Santo. Set in 1989, you play as a man named Henry who is a fire lookout in the Wyoming wilderness. Something strange leads you to explore the nearby forest, forcing you to make decisions that can both build and destroy relationships. Talk on a walkie-talkie with your supervisor Delilah and stumble upon a conspiracy and mystery of years past. The visually beautiful game is available now for the PC, PS4, Xbox One, and Nintendo Switch.
Interested in simpler, more relaxing Facebook games that have puzzles and investigations? We've got you covered with our article of Most Popular Crime Investigation Games on Facebook.