Style Savvy: Styling Star is a fashion simulation game for the 3DS published by Nintendo and developed by Syn Sophia. It was released in North America on December 25th, 2017 on the Nintendo eShop only. It's the third iteration of the series with the previous titles being Style Savvy: Trendsetters and Style Savvy: Fashion Forward. I can't figure out why this hidden gem is so poorly advertised when compared to other games of this genre. This particular one stands out for its heart and messaging; be yourself and anything is possible.
About Styling Star
At the very beginning you get to customize your female avatar. You are then told by your uncle Tim that you are now in charge of your own clothing boutique. Customers begin to walk in and ask for items and it's up to you to choose what they specified (i.e. purple earrings). You can search your inventory via item request or do your own in-depth search via patterns, colors, styles, etc.
Each customer has an information card that you can view. It has their name, personality, a friendship rating, their hobby and their job. It even shows items they may have previously purchased from you. This way you can keep tabs on their history with you and remember who they are. As the game progresses and you start to make a name for yourself, the customers start trusting. They let you decide on their entire outfit as long as it's within their budget and preferred style.
At first I just wanted to find a game where I can match some outfits. I fully expected it to be as frivolous and shallow as that sounded but quickly began to change my mind. The game tells you that wearing an outfit that truly expresses oneself and makes you feel beautiful can give you confidence. I was a valued member of the town and was truly making a difference in these fictional women's lives.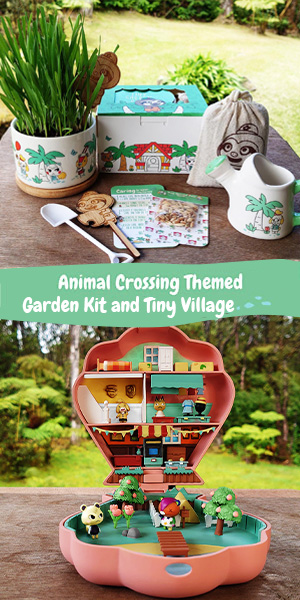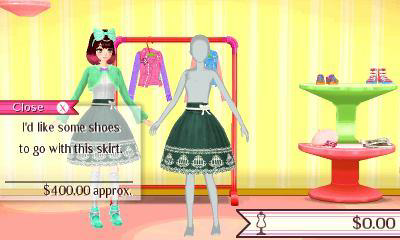 Story and Content
The main story of the game centers around three main characters Rosie, Alina and Yolanda. They come to you for help in creating their persona as you help them along their singing careers. You get to be a part of their rise to stardom and see them perform songs on stage. The song selection varies on the style of clothes and accessories you gave them. All their performances can be reviewed by going to your menu and choosing MewTube (I see what you did there). You get once again proudly watch them sing and dance in the outfit you have chosen for them.
You get to truly build a rapport with these girls as they frequent your shop. They tell you about big or small moments as they keep you updated on what's going on in their lives. There are also several other events with minor characters. As you dress them for success, they start building their own shops such as a beautician's, hair salon, flower shop, bakery, and concert hall. It's almost impossible to fail at this game. If a customer is not be happy with your choice, they will return at a later time to try again.
The main point of this game is to make people feel comfortable in their own skin. Nothing is more satisfying than seeing your customers coming back into your shop wearing the last outfit you sold them. It's exciting when they tell you that it helped them nail an interview, feel good about their date or make a new friend. This is a step up from Fashion Forward as that game did not have so much as an overall story but just an objective of putting on the best fashion runaway show.
Gameplay
This game can basically go on forever. The sheer volume of items accessible can offer millions of different combinations of outfits. This includes hats, bags/purses, dresses, glasses, earrings, necklaces, shoes, gloves, scarves, etc. The different styles are Lively, Eastern, Basic, Girly, Psychedelic, Boho-chic, Gothic, Baby Doll, Bold, Rock, Chic, Feminine and Preppy. Once you start earning some money, you can make a trip to the Exhibition Hall. There you can shop at the brand stores you have unlocked. You can add what they have in stock that day to your checkout basket and later find it in your store's inventory.
Once you have purchased an item, you can always easily reorder it from your menu and will always have it in your personal inventory for your avatar. When you've done that, you can head over to the beautician's to do their make-up which includes eye-shadow, lipstick, eyebrows, eye color and nails. Then you can also head to the hair salon to recommend a color (with or without highlights), length and style. However, I found both of those things to be more of a chore as you had to go somewhere else to do it. It randomized which customers would go to the other shops so you can't really choose who you want to give a makeover to.
This game features a decorating aspect as well. You can change the floor, walls and furniture of your apartment or boutique. For your boutique, you can change the music playing in the background, dress up your mannequin in your display window, dress up your shopkeeper, and customize your storefront's layout, color and style both indoors and outdoors.
Comparing Games
I'm about 50 hours into the game and have yet to complete the story-line. It's very slow-moving because you have to wait for the main 3 characters to show up randomly in your store with no other means of progression. Thankfully in this sequel, you don't have to wait as long as the in game clock is not in real-time. This works really well for Animal Crossing as every day is fresh with new items and holidays are special. In Fashion Forward, if you ran out of clothing that matches, you had to wait an actual entire day for the shops to cycle through their inventory. It reminded me of a mobile game that you can only play a little every day rather than sink in quite a few hours into a game whenever possible (which is how I prefer to play).
The content in this game has been cut quite a bit compared to its predecessor. Fashion Forward used to have "treasure hunts" for make-up sets and a clothes designing option. It also had Caprice Chalet which was a feature where you can design several rooms in a building and rent them out to customers. Your customers also used to invite you out to places to take photos together and there was a modeling studio where you were paid to do a photo-shoot. That feature was honestly my favorite part of the whole game and saddened me that it wasn't included.
Graphics, Sound and Music
The graphics of the game are great for the 3DS with every scene and character interaction being in 3D. Where the game truly shines however, is its music, if you're a fan of pop. The different styles of music go along well with their clothing style counterparts and the soundtrack during certain moments is adorable.
I really love the main theme song Fight For Your Style by Anna of Japanese girl group FAKY whom sings for both the English and Japanese versions. This song perfectly encapsulates the whole feel and point of the game with lyrics like "Getting judged by everyone can make you feel like you're worthless. It's so hard to be yourself. But it's your way; gotta fight no matter how hard it can get (Why are you giving up?). Your style, hold your own. Don't ever let yourself forget!" and the upbeat tempo has me singing along to this song every time I hear it and it stays stuck in my head for days afterward.
If you're a fan of fashion, music or you just like to get creative, I highly recommend this title for the Nintendo 3DS, which you can purchase here. I'm hoping that it will get a Nintendo Switch port so that more people can be aware of its existence and we get another bigger and better sequel. For more fashion games by us click on this link.