RE:LEGEND an Animal Crossing and Harvest Moon Hybrid Game
Square Enix has made some big announcements this week. After expressing their full support for Nintendo Switch, they have announced another game in direct competition to Harvest Moon, Pokemon and the beloved Animal Crossing. RE:LEGEND is a video game about farming, exploring, village management and just so much more.
">
You will start the game by waking up washed ashore on the beach, with no memories. You will have to start a new life, and find ways to recover your lost memory. But before it gets to that you have to start cultivating the island, make friends with villages, expand the village, do some farming, fishing, planting and cutting down trees. It is up to you how you tackle the game. You will also be able to raise your very own magical creatures, this is is similar to Pokemon except instead of catching you can also raise them yourself.
According to Square Enix the developer behind RE:LEGEND, the game focuses on 4 major features:
Farming(Grow crops on land/sea, keep fishes)
Tame and raise Magnus(Monsters)
Adventure(Story, Crafting, Fishing, Mining, Logging.etc)
Recruit NPC(Village expansion)
RE:LEGEND Details
You can play alone, but what is the fun in being lonely? You can invite up to 3 friends to play along with you in Multiplayer.
Magnus are little magical creatures that roam around the island, you can tame everyone of them. They will aid you in different ways, and can be very useful for farming, fishing, traveling, in combat and more!
They will also grow and evolve depending on your care, so each of them has unique evolution conditions. Once the Magnus has grown enough and you have gained their trust, you can mount them and use their abilities at will. These abilities will be helpful in your adventure in many ways so make sure to take good care of them!
Vokka islands ground soil is as fertile as Hawaii and therefore perfect for cultivation and farming. You can do so on the ground or even underwater. You can plant different crops all year around with different kind of plants to be raised. Each season has it's own crops, that once fully grown can be sold for in-game gold.



You can fish, and all the fish you catch can be sold for gold, or you can even keep them in your own farm and watch them swim around in your pong or aquarium!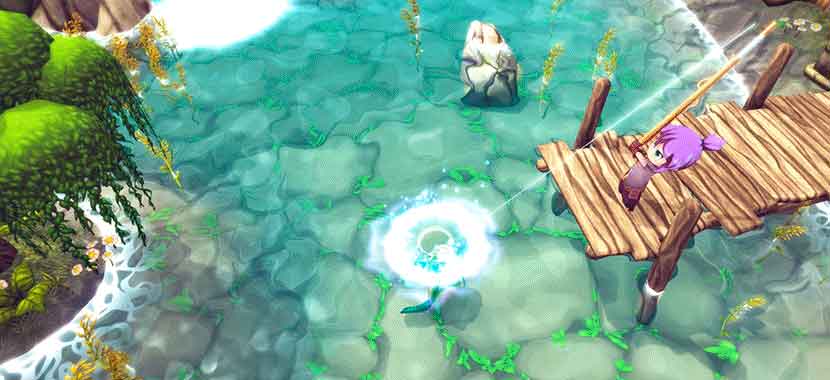 Whatever skill you want to master in the game, practice is the key! The more you exercise a certain the skill, the better you will get at it. If you fish a lot you, will start getting more and better fish. If you farm a lot, your farm skill will increase and crops will turn out better with a greater yield.
Example of Living Skills:
Mining, Fishing, Logging, Crafting, Farming, Weaponry and much more!

Vokka Village is where your new life begins! Befriend local villagers and celebrate exciting festivals while having a good time together. Pay attention to their needs and help them out in their daily lives, and they will reward you accordingly.
You can recruit more villagers into the village during your adventure, and having more villagers will expand the village. This will allow you to gain access to better resources, and who knows you might even be able to recover your lost memories?
RE:LEGEND is currently in development for PC, a first gameplay trailer has been released and can be watched below. This game shares also a lot of similarities with Ooblets, you can read our interview with the Ooblets Developer here. We have recently mentioned that Square Enix has announced it's full support for the Nintendo Switch, we wouldn't be surprised to see a port of this video game on Nintendos new Console.