Hokko Life is desribed as a 'cosy, creativity filled community sim game'. The game is being developed by Robert Tatnell who runs his own indie game dev company, Wonderscope. Initially Wonderscope intended to both develop and publish Hokko Life. However, this is an understandably big feat for one person. Therefore in April 2020, it was revealed that Wonderscope had 'teamed' up with Team 17, who will now publish the game. Team 17 are notorious for publishing games such as My Time at Portia, Overcooked, and Yooka-Laylee. Hokko Life will hopefully release for PC via Steam at some point this year. The price of the game is not yet known.
About The Game:
Hokko Life begins with your player stepping off of a train. Having taken over your very own (albeit a little dusty and old) workshop, you are free to craft and create to your heart's content.
The quiet village which you now call home needs your design expertise. Help create an endearing town for its inhabitants. Armed with paint and tools, you can design, build and decorate new homes for your new furry friends.
Players can craft materials and combine them how they wish. This allows you to create a variety of cool new furniture and items for the town. By collecting flowers and mixing paints, you can use them to design wallpapers, flooring and even clothing!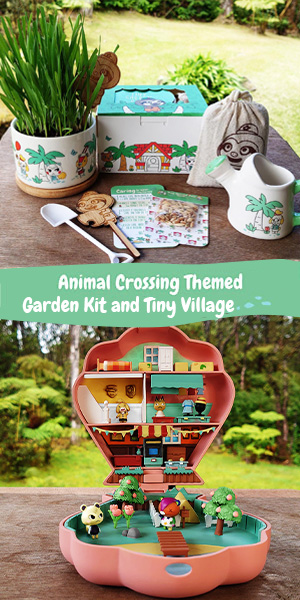 Given plenty of design choices, you could design a bright flowery wallpaper set, or instead create an urban-industrial furniture collection. Whatever your taste, with a workshop at hand, you have complete freedom in designing a beautiful town for the townsfolk.
Features:
Chop, mine and dig for resources by venturing out to the forest or the abandoned mine. After bringing those resources back to town, where you can craft them into materials to use in your designs.
Gather materials, head into your workshop and put your own spin on each item you make. The design table lets you build your own furniture. Here you can combine various shapes and materials using a simple yet powerful editor.
Design a variety of wallpaper, flooring and T-Shirts for you and the villagers to wear. Feel like a famous fashion designer and get everyone in town wearing your bespoke designs.
Enlist the help of the local builder in order to begin expanding the town. You get complete freedom over where buildings are located and then need to ensure they are ready for new villagers to move to town.
Customize both the interiors and exteriors of any home. Release your inner interior designer and pick designs and place furniture to create a home your new friends will adore.
Turn any plot of land into a place where plants and vegetables will grow. When your produce is ready, you'll be able to sell it.
Enjoy quiet moments at the various fishing spots located in Hokko and expand your fishing collection. The fish have unique habits, and so players will need to vary their approaches. Similarly, each catch provides it's own challenge when you reel them in.
Hokko is home to a wide variety of different insects. These insects can be caught and added to your collection. Be sure to keep a eye out, as some may be hiding in a bush.
So, What's new pussycat? Woah, woah. What's new pussycat? Woah, oh, woah (ahem).
About The Latest Devlog:
The latest Devlog from the creator of Hokko Life appeared on Steam on May 6th BST. In it, featured some exciting little updates about the game's progress.
Now working with Team 17, Wonderscope have stated that 'epic updates to Hokko Life' have apparently already been made! The ones mentioned in the Devlog include:
Art Updates:
More variety in the shape, pattern and color of mine rocks
The fish receive makeovers. After contemplating how he'd like them to look, Robert settled 'on a clean and stylized look'. Additionally, there are now a wider variety of fish in the game.
Tidier textures for buildings. Using the workshop building, one of the older elements of the game, Robert gave it a newer style and cleaned up its texture.
Improved ground textures. One of the biggest improvements is the appearance of the game's grass. The grass is now 3D, has more depth, and in the words of Robert 'brings the quality level up a notch'.
Other Changes & Additions:
Edit Designs Anywhere:
In April, Robert started work on allowing players to edit the design of objects in the world, by simply interacting with them. Until that point, players had to return all the way to their workshop in order to edit a design. They would also need that object in their backpack to do this. (Sound familiar to Animal Crossing: New Horizons crafting and customization peeves? 😂). Now, however, if players spot something that they want to edit, they can do so from anywhere in the world.
Lessening Hassle & Frustrating Things and Making Hokko Life More Immediate & Fun To Play:
Robert says in the Devlog that he will continue to think of ways to make the game more convenient and fun to play. He wishes to remove anything that might be a hassle to players in order to improve their gaming exprience. (Take notes, Nintendo 😂).
Another small change could possibly be the ability to evolve your players avatar. The information about this is in a recent Hokko Life Patreon post from May 15th. However the post is only accessible to the game's Patreon supporters (which is totally fair btw!). If you are a supporter of the game on Patreon though, and know what this post is about, feel free to enlighten us! We're curious!
You can check out an exclusive interview with the game's solo developer, Robert Tatnell here.
And to get a more in-depth insight into the game, you should check out this article here.
You can visit the game's website for info here and visit their Steam page and read their Devlogs here. Additionally, you can follow them on Twitter, and/or join their Discord server here.