Animal Crossing
News
Nintendo's New Tokyo Store Features A Lot of Animal Crossing Merch and More
On the official website of Nintendo TOKYO, the new retail store that opened on November 22nd, 2019, Nintendo is directing fans toward their Twitter page here to provide the latest information due the long wait times and line-ups. For example, on December 31st, 2019 they announced that just "entering the store is expected to be approximately 150 minutes." When they re-open tomorrow (after New Years), they will be handing out numbered tickets at "Shibuya PARCO 1F Spain Saka Entrance" before opening to better manage the ongoing high-demand of official Nintendo merchandise.
So what exactly has fans clambering to the new Nintendo store in Tokyo more than a month after opening its doors? The store reports that over 1,000 items are currently on sale, many of which are exclusive to their venue. This means we won't be able to just order everything on Amazon!
Lots of Animal Crossing Merch!
I already know about quality Animal Crossing merchandise such as the Home Merchandise collection here, but I just had to take a closer look at those beautiful shelves stocked full of products I can only dream of! So I've put together a few photos from fans all over the world on social media, to see what other goodies we can spot together!
Here we see an adorable box full of these new Animal Crossing themed marshmallows thanks to Twitter handle @tulipteacups! You can actually eat these or put them in a nice warm beverage while playing The Cutest Animal Crossing-like Games To Tide You Over.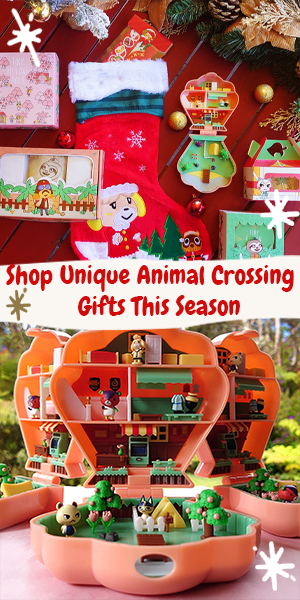 Let's not forget all of the other Nintendo merchandise that includes Super Mario, Splatoon, and Legend of Zelda thanks to @HebiTravels. Wait, do 'I spy' a plushie with Mario in a green shoe/pipe-looking thing? I want it.
Since a Pokemon Center opened on the same day in the same building as the Tokyo Store, both stores are collaborating and sharing some stock. So if you're going to Tokyo, check out both of these shops! I just had to share this life-sized Mewtew in an incubation chamber video by Tokyo Fashion!
While the Nintendo Store in New York has wonderful things as well, it doesn't really feature similar collection to what we have been seeing in the Nintendo Store Tokyo, hopefully closer to the New Horizons release we will be seeing some of the merch make its way to the west as well!
Animal Crossing Merch From Yours Truly
Check out the following articles for Animal Crossing items you can actually get your hands on if you're not in or traveling to Japan! Learn how you can win handcrafted cards and bags, as well as some handy and cute every day stuff here: Animal Crossing Bell Bag Of Goodies!