Animal Crossing
News
Nintendo Teases Next Animal Crossing New Horizons Event Possibly Featuring Cooking And Baking DIY's
Nintendo just teased this years Winter and Christmas event and revealed the release window as well.
Halloween is not even here yet and Nintendo already teased the next major event coming to Animal Crossing New Horizons. During the reveal trailer for the upcoming Halloween event, the big N sneaked in a little hint for the Christmas event.
Jingle is coming back!
If you watched the video to the end you may have noticed that Jingle made an appearance. Jingle, for the ones who don't know, is the Animal Crossing Christmas character. You may have met him in New Leaf or even Pocket Camp.
Jingle always appears around Toy Day where gift exchanging between players and villagers takes place. Christmas has always been one of the biggest events in Animal Crossing and it seems Nintendo is gearing up for a huge festival this year.
Animal Crossing New Horizons Cooking and Baking rumored to finally release this winter!
If you spend enough attention during the Halloween reveal video it appears that Nintendo used two characters to tease the first ever New Horizons Winter event. On the right side we can find Jingle and on the left hand side we can see Franklin.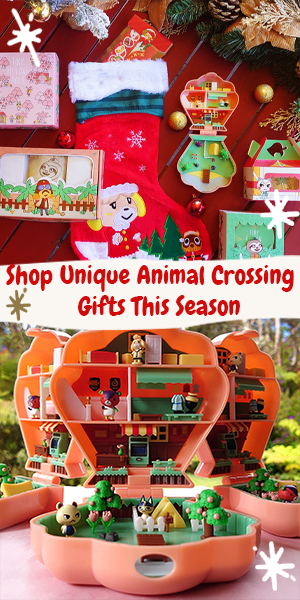 Franklin first appeared in Animal Crossing City Folk. If you have not played any previous Animal Crossing games, he usually visits around the Harvest Festival which is the Animal Crossing version of Thanksgiving.
He will ask players to bring him ingredients so he can prepare a delicious dinner. Interestingly enough, in recent Animal Crossing New Horizons updates dataminers have found pieces of code that hint at cooking and baking mechanisms much like DIYs – but for food and vegetables.
Vegetable Seeds are coming
The code specifically mentions that Tomatoes, Wheat, Potatoes, Carrots, Sugar Canes and even Pumpkins will be available as starter seeds in the game. Today we learned that Pumpkin Seeds will actually be purchasable from Nooks Cranny. Which once again proves the dataminers predictions can be correct.
In addition dataminers have also found pieces of code hinting at swimming in the ocean which was officially added to the game with the Summer update weeks after dataminers had leaked it.
It is expected that preparing food and growing necessary ingredients will be introduced this winter along with Franklin. Of course these are rumors based on code found in Animal Crossing New Horizons, while this is a pretty good indication that these features will make it into the game sooner or later, we have to wait until Nintendo announces it for it to be official.
It would come at no surprise to see such feature in New Horizons. Nintendo is planning to update the game for at least three more years and there is a mysterious absence of food in the game ( besides fruit ). There is also a stamina system in the game that currently only involves food.
Animal Crossing New Horizons Holiday Event and Harvest Festival Release Date
During the video we also learned that the Animal Crossing New Horizons Christmas and Harvest Festival event will become available as yet another free download sometime in late November!It is expected that Nintendo will announce the exact release date with more information in the next few days!
Nintendo also announced the return of the Animal Crossing Switch Edition along with a restock of Animal Crossing Amiibo cards!