Nintendo just delivered a megaton punch in the form of the March 2018 Nintendo Direct. There's lots to talk about, so rather than overexplain it, we'll get straight to the punch in order of release dates/launch windows. This is our March 2018 Nintendo Direct Recap
March
Arms isn't quite finished yet, it seems. While the game content is finally complete, there is still a major event coming this month regarding Nintendo's newest fighter. There will be an open tournament online taking place between March 8th and 18th. In this tournament, eight skillful players will be selected to compete on the 31st.
Kirby is on his way, but he's not alone. He's bringing with him favorites from the series' history, like King Dedede, Metaknight, and Bandana Waddle Dee. On top of this, Kirby Star Allies will be receiving an update to add even more of these Dream Friends. The game launches on March 16th with the first update coming March 28th.
Detective Pikachu is another one we knew about for a while. It's a 3DS puzzler similar in tone to the Professor Layton games, but with that Pokemon charm and humor. Detective Pikachu will launch alongside an oversized Detective Pikachu Amiibo for the 3DS on March 23rd.
April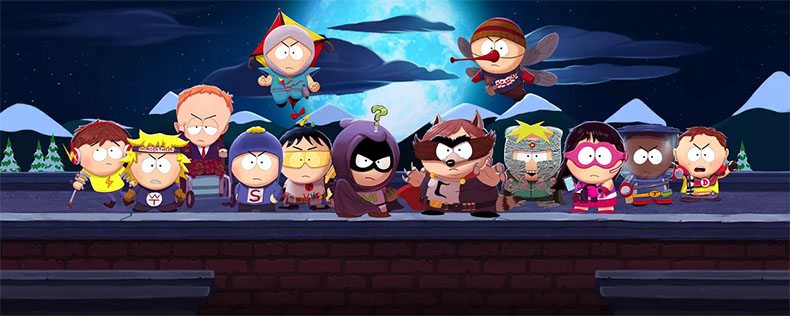 South Park: The Fractured But Whole has been announced for the Nintendo Switch. Not only that, but the DLC packs will be available on launch with a season pass, as well. This Ubisoft RPG will be making its way to the Switch on April 24th.
Splatoon 2 will also be receiving an update in the form of version 3.0! There's no set date for this, but in late April, prepare for new weapons, gear, stages, and more.
May
Little Nightmares, the 3D puzzle platformer indie hit is coming to the Switch. This version is the Complete Edition, meaning both stories are included. Little Nightmare: Complete Edition will be available on May 18th.
Hyrule Warriors: Definitive Edition is the final version of Hyrule Warriors, which came out for the Wii U and 3DS. All content unique to those versions will be available in the new version, along with a few extras. It's a Third Person Action game in which Hyrule's familiar heroes take on the hoards of enemies attacking Hyrule Castle and many other iconic locations. This will also be launching on Nintendo Switch on May 18th.
Dillon's Dead Heat Breakers is a combination of the game's classic style and a bit of tower defense, among other things. The series comes from Dillon's Rolling Western, which was a well-received indie title on the Nintendo DS. You could think of them as the first Nindies! Dillon's rolling Western will be available May 24th. A demo will be on the eShop May 10th.
Dark Souls Remastered is finally making its way to the Nintendo Switch. The full game is available in this version, which will have an online stress test similar to the global testfires Splatoon had going on. Alongside the game will launch a Solaire of Astora Amiibo. You can look for these starting on May 25th.
June
Sushi Strikers was a competitive matching puzzle game announced at E3 last year for the 3DS. Now Nintendo has announced that this experience will be available on both the 3DS and the Nintendo Switch on June 8th.
Mario Tennis Aces was the game Nintendo probably spent the most time on with this Direct. The information in their presentation was likely enough to warrant its own full article, however one big thing to take away from this is that Nintendo will host an pre-launch online tournament prior to the now-confirmed June 22nd release date.
July
Crash Bandicoot N. Sane Trilogy originally launched for PS4, but now it's coming to the Nintendo Switch! Prepare to play the original three Crash Bandicoot games when they're available for Switch on July 10th.
Captain Toad: Treasure Tracker is another Wii U port that's coming not just to the Switch, but the 3DS, as well. Captain Toad was a 3D Puzzle Platformer starring the only character in the Mario Universe who can't jump. Make your way through levels inspired by Super Mario 3D World and Super Mario Odyssey when it releases on July 13th.
Octopath Traveler is Square Enix's big Switch exclusive JRPG project they've been ramping up to for a while, now. The game consists of following the stories of eight separate characters as they cross paths and seek out their own goals. There's already a demo available on the Switch, but the full game launches on July 13th.
This Summer
Warioware Gold is another zany collection of microgames put forward by our favorite garlic lover. Warioware Gold appears to be a series of all new games with some nice call backs to previous titles, but it may just be the best way to enjoy the end of your Summer when it launches for 3DS on August 3rd.
Okami HD has been announced for Switch. Join the Sun goddess Amaterasu in the form of a wolf as she travels a beautiful water color style Japan and wards off evil with the use of her Celestial Brush. Okami will make its stunning debut on the Switch eShop sometime this Summer!
Splatoon 2 is also getting a new expansion pack in the form of its first paid DLC. This pack appears to include an all new single player mode in which you play as an Octoling (or a girl who looks like one?) and fight through over 80 missions on your trek to the surface. Then you'll be able to compete online using the Octoling so everyone else can see. This expansion will likely cost $19.99 and comes out sometimes this Summer.
2018 and Beyond
Travis Strikes Again: No More Heroes is the continuation of Suda 51's hit Wii series, No More Heroes. You play as Travis Touchdown who must go hacking and slashing his way through a series of his own video games to remove bugs. It's a 3rd person action game that will be launching sometime this year. Hopefully we'll see more as soon as possible.
Super Smash Bros is coming to the Switch. While the trailer doesn't specify if this is a port of the Wii U/3DS version or a new game, we think it's likely the former, as that seems more reasonable, given the time frame. What the trailer does tell us for sure is that Inklings will be playable, as well as Breath of the Wild Link, who is likely a new costume for the hero we all know and love. Super Smash Bros will launch on the Switch this year.
Luigi's Mansion, the original game from the Gamecube, is coming to Nintendo 3DS. Luigi needs to save his brother from a haunted house and it's up to you to make sure he doesn't get too spooked in the process. Luigi's Mansion 3D will be coming out sometime this year.
Mario and Luigi: Bowser's Inside Story was an RPG made by Nintendo that played with the premise of Mario and Luigi being swallowed by Bowser and having to work together with him to solve a major problem in the mushroom kingdom. That's not all, though, as Bowser Jr will get his own side story, similar to the one found in the previous Mario and Luigi remake. This game is coming to the 3DS in 2019.
Undertale got a humorous trailer featuring Sans and Papyrus announcing its arrival on Switch. While it was known before that Toby Fox would be working on this, it was unknown how well he would put it together or if he even could. However, we're here now and the RPG where you don't have to kill anything is coming to the Nintendo Switch… eventually.
Final Words
And that's about all! Nintendo had a lot to say and it took some time to get through it all, but here we stand. The Direct can be viewed below for anyone who wants to see the full presentation. A few games were sorely missed, such as Animal Crossing, Metroid Prime 4, and Pokemon Switch. Granted, aside from Animal Crossing, we didn't think there was much hope to see these at the Direct. We still are waiting with baited breath to know more about these titles, and we'll be sure to let you know as soon as we do.
For even more new games from the Direct, check out the brand new Octopath Traveler Demo here. And all the games from the Nintendo Direct that you can already pre-order over here.