PlayStation live-streamed their second State of Play on May 9th, 2019. They announced a few release dates and showed trailers for the list of games you'll see below. Specifically, we at myPotatoGames wanted to highlight the following two games from the presentation for their adorableness and indie charm: Riverbond and Away. However, you can watch the video in this article for the full 10 minutes of PlayStation's State of Play.
Monster Hunter World: Iceborne releasing September 6th, 2019
Riverbond coming this summer 2019
Predator: Hunting Grounds due sometime in 2020
Medievil remake releasing on October 25th, 2019
Away: Survival Series coming soon
FFVII remake – more to be shown in June 2019
Limited edition Days of Play PS4 console – event starts in June 2019
Riverbond
Riverbond, a charming voxel hack-and-slash dungeon-crawler developed by
Cococucumber (Canadian indie studio). You'll be able to play cooperatively and locally with friends and complete missions, find treasure, and defeat monsters and bosses. Riverbond will be coming as early as this summer to PS4, Xbox One, and PC. The creators have also confirmed that a Switch version will release sometime after launch. You can wishlist the game on Steam here or visit their official website here.
Riverbond has eight crossover skins from select indie games that the creators love and that we at myPotatoGames happen to love too. Find these guest skins hidden in treasure chests and use these characters on your journey! This wonderful homage includes the characters below.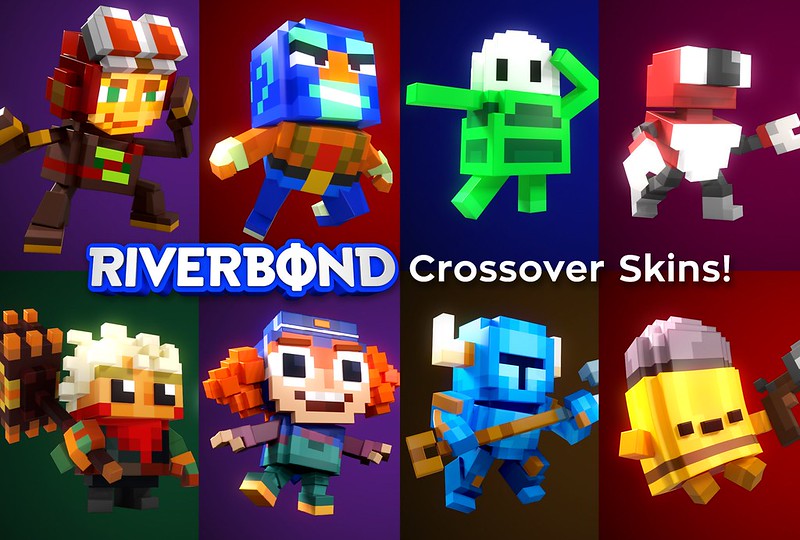 The art style is reminiscent of Minecraft and Staxel with its tiny cubes! Riverbond "will let you go on an adventure, cut some grass, wreak havoc to [our] beautifully handcrafted maps, and maybe find a secret or two along the way". Find out more on the PlayStation Blog by Vanessa Chia here.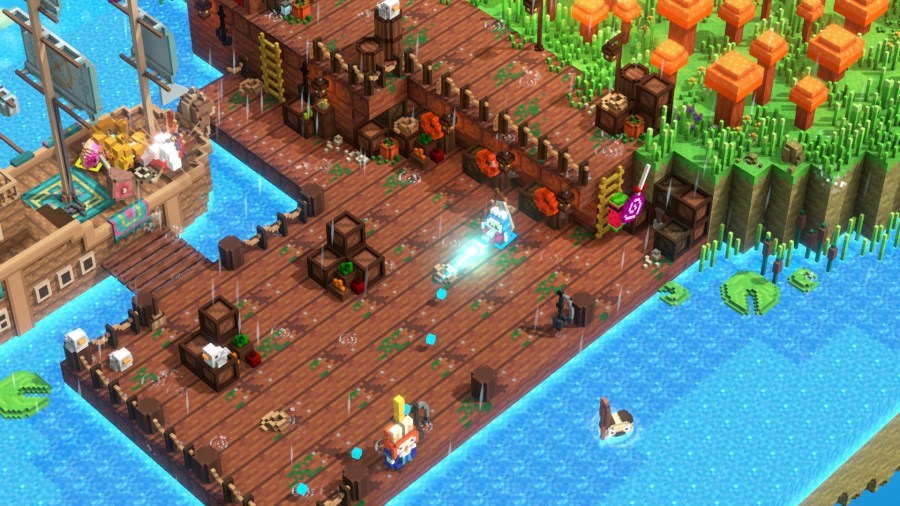 Away: The Survival Series
Play as a sugar glider, and step inside a wildlife documentary and experience nature from an entirely new perspective. In the distant future, natural disasters threaten the survival of every species on the planet. Venture deep into the wilderness in search of safe sanctuary and steer clear of fires or storms. Furthermore, you must jump, climb, and glide through a wide variety of landscapes such as forests, caverns, and canyons to avoid predators. Away: The Survival Series is developed by Breaking Walls; an indie game studio founded by industry veterans in Montreal, and will be coming soon on PS4 and Steam (wishlist here).
In addition to the beautiful environments, the soundtrack will immerse you even more in the nature as it says in PlayStation's blog,
"Having worked on the soundtrack for nature documentaries such as Life and Planet Earth II, we partnered with award-winning composer and audio director Mike Raznick to compose Away's orchestral score. Both epic and atmospheric, the game's enchanting soundtrack punctuates every step of your journey and makes for a truly captivating gameplay experience."

Lauren Bernier
Creative Director, Breaking Walls
Furthermore, if you missed the last State of Play, you can watch the video in our article here. Namely, highlighting the game ReadySet Heroes, a unique dungeon-crawler.