News
Mineko's Night Market – Update
Meowza games recently released a newsletter, updating fans on the game's progress. In light of this, we have decided to post an update containing all the latest information we have about the game. For those who are unfamiliar, Mineko's Night Market is an upcoming cat-themed PC game. For more information about it, click here.
Merchandise
Twitter user Kukubee has recently been teasing fans about Mineko's Night Market merchandise.
All night sewing. Just like old times! 😀 pic.twitter.com/RwnksYioTT

— kukubee (@kukubee) April 13, 2018
Sneak peek of a surprise thing happening soon! :O pic.twitter.com/Ve6hBD82mV

— kukubee (@kukubee) April 27, 2018
Talented Kukubee expressed hope that the cute pouches will soon be available to purchase on the game's Etsy store. She also hinted that other items may be up for sale as she attempts to 'build up some inventory'.
Twitch Stream
Meowza games have announced that a Whole demo of the game will be streamed on Twitch. The stream will take place on May 10th at 2:00 pm (PST) and again at 9:00 pm (PST) here. There will also be a small giveaway held during the demo.
Game updates
Meowza have been busy ensuring the game is completed to an exceptional standard. Game updates include:
– A Quest system! The system is now in place and we are busy pumping out the remaining story content. Each quest is a handcrafted unique experience including: sneaking past guards to find missing artefacts, preparing a perfect meal for a special guest, and exploring a mysterious haunted lighthouse!
– Beginning work on implementing the Journal. You can now keep track of your Quest progress and Relationships in your Journal. Soon to add: Food, Discoveries and Collectibles!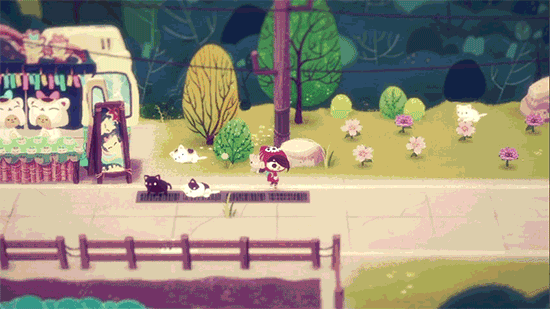 – An overhaul of the Night Market/bartering system.
– Having re-written Item and NPC interactions for optimization and future-proofing it for localization work.
– Lots of bug fixes.
Free wallpaper
The newsletter also contained a free phone wallpaper, if you want to be part of those adorable giveaways make sure you sign up for the official newsletter here.
For an exclusive interview with Brent the creator of Mineko's Night Market head over here. You can now also wishlist the game on steam.