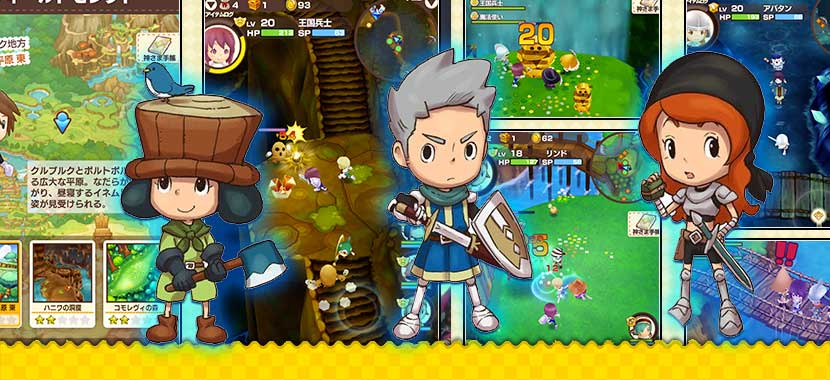 Fantasy Life Online – New Gameplay Video and More!
How do you feel about this story?
Fantasy Life has been a hugely popular game on the Nintendo 3DS. Developer Level 5 has been working on  a sequel to the beloved game. While the mid April Japanese release of the game is only weeks away, North American fans will have to wait a little longer. However, Level 5 has recently shown of some new gameplay and revealed some new details on the upcoming game as well.
Village Building
There is a big focus on Village Building in Fantasy Life Online. Not only will you be able to adjust and change the look and feel of your very own town, but you can also place buildings and decorate the area to your liking. Your adventure and quests in the game will change depending on the buildings you construct in your town. Furthermore you will be able to invite your friends to your village, to trade and exchange items. You can also team up to go exploring and adventuring together. Your friends will also be able to help you advance your town faster.
Below is a sample of Town buildings you can purchase and place in your village.
Your Fantasy Life
The game will feature 12 unique occupations. Similar to Fantasy Life on Nintendo 3DS, choosing an occupation will change your gameplay. Your daily activities will be tailored to whoever you want to be in the game. If you become a fisherman you will be faced with different challenges and quests, as if you would choose to become the owner of the village bakery. Whatever you want to be in Fantasy Life Online, there will always be plenty of activities to do every single day.
Home Sweet Home
Similar to Animal Crossing, you will be able to build and decorate your own home. If you chose the right occupation you may even be able to craft your very own furniture, that is if you collect the materials needed! But, if you aren't feeling so handy, then you can still purchase and chose from a variety of different furniture and items to make your house a home.
New Gameplay Video
Watch the gameplay recording from the Level5 Battle Show 2017 of Fantasy Life Online below to learn more about explorations, jobs, and designing your home. Fantasy Life Online is set to release for iOS and Android in April 2017, and July 2017 for Nintendo 3DS. North American fans will have to wait a little longer for a release currently set for later this year.
How do you feel about this story?