Celebrate the coming of spring with Pocket Camp's latest fortune cookie, Diana's Fay Cookie, which contains beautiful Flower Fairy themed items. 
As is standard for fortunes cookies, Diana's Fay Cookies cost 50 Leaf tickets each to purchase. A pack of five cookies with an extra stamp can be bought for 250 Leaf Tickets. 
With both flower fairy clothing and furniture up for grabs, you can look fabulous, and also create your very own fairy grotto by combining the furniture with the recently released Fairy Forest terrain!
The rare spotlight item for this cookie is the Giant Fairy Flowers item, a huge flower which animals can bounce, spin, and fly around. 
Here's the full list of items that can be obtained from Diana's Fay Cookie:
Giant Fairy Flowers – 5 stars
Fairy Jar – 4 stars 
Giant Dandelions – 4 stars
Fairy Wings (a new type of accessory within the Animal Crossing franchise) – 4 stars
Giant Daisies – 3 stars
Giant Sweet Peas – 3 stars
Leaf Umbrella – 3 stars
Giant Grass – 3 stars
Daisy Hairpin – 3 stars
Daisy Dress – 3 stars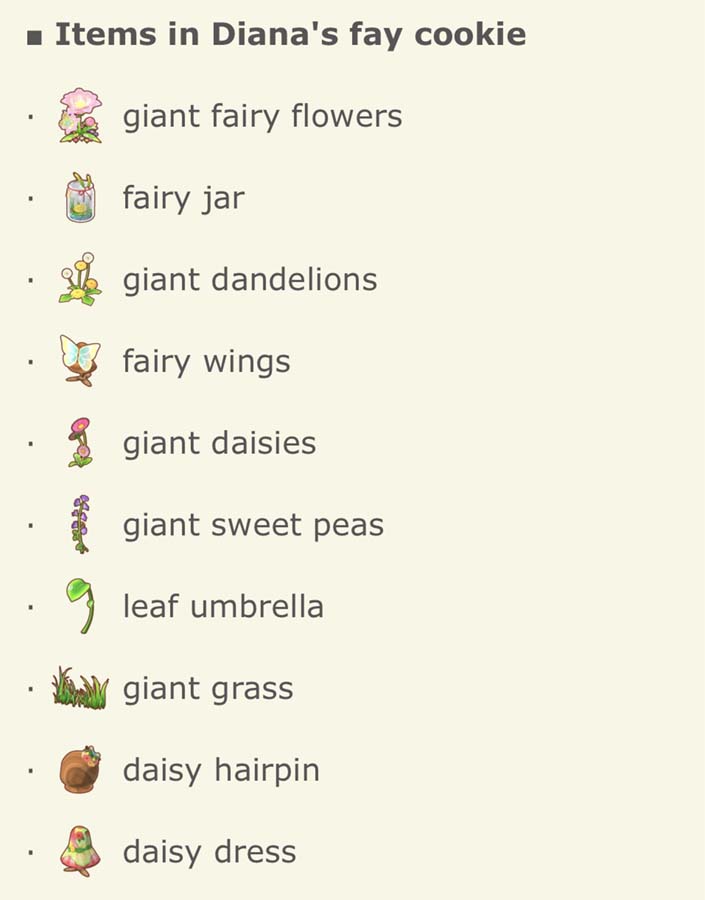 The cookie is available to purchase throughout spring until May 30th.