You're a dog wielding a magic paintbrush! Use color to explore, solve puzzles and make friends. From creators on Wandersong + Celeste.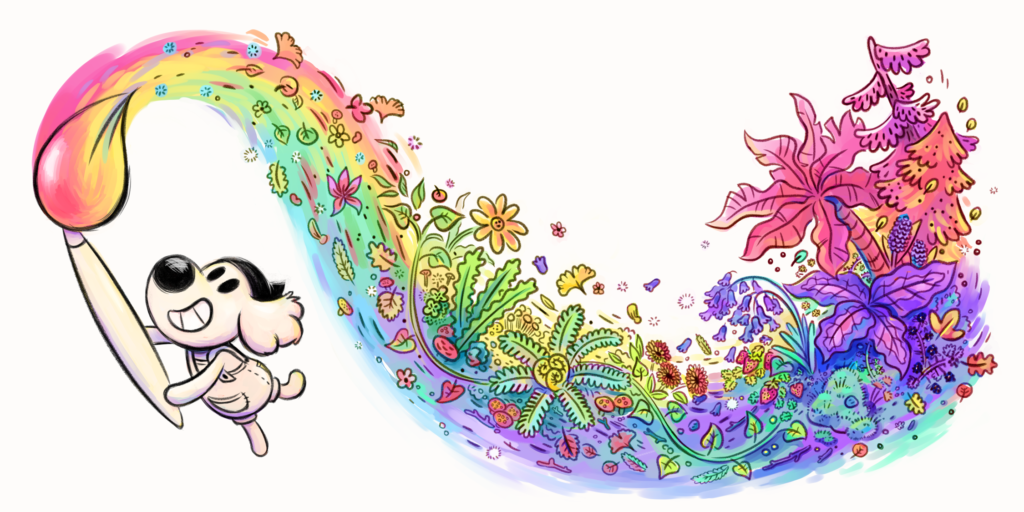 We've been following Greg Lobanov's work on this game, formerly known as Drawdog as the working title, and now we have the full title and the whole picture (pun intended)! Greg Lobanov is an indie game designer based in Vancouver, Canada, and has designed, programmed, and written many indie games. For example: Wandersong, Coin Crypt, Phantasmaburbia, and more. Chicory: A Colorful Tale launched on Kickstarter just yesterday and before we even got the chance to write this article, it surpassed its goal! With 29 more days to go, you can still make a pledge on the Kickstarter campaign here and get in on those rewards/backerkits!
About Chicory: A Colorful Tale
Chicory: A Colorful Tale is an adventure game about a dog wielding a magic paintbrush! Use the power of art to explore, solve puzzles, help your animal friends and restore color to the world. The Brush is a one-of-a-kind artifact that can color the world. Naturally, it needs a wielder, a master artist responsible for all colors and for passing the brush down. The current wielder, Chicory, is immensely talented and beloved by all… until all the color in the land vanishes, and her with it! I guess that leaves it up to you, her number one fan, to take up the brush and fill in for her. Hmm… good luck!
Key Features
Explore the Picnic Province, and draw on anything!
Manipulate the environment with your paint and solve puzzles!
Unlock new paint abilities and use them to reach new places!
Collectible clothes, plants and furniture to dress your character and the world how you want!
A world full of animal characters to meet and befriend!
Local co-op! Play with your friends and draw together!
Kickstarter Rewards and Merch
The creators of Chicory have put together some really awesome in-game rewards as well as various artwork and merchandise created by the team's very own artists; Alexis Dean-Jones and Madeline Berger. In addition, that team also includes: Lena Raine and Em Halberstadt, the composer and sound designer respectively. See the list below for the goodies you can look forward to as a backer.
A Digital Art Book, full of promo art, sketches, concepts, unused characters, notes, and other loose ends from our creative process!
A backer-exclusive enamel pin, designed by game artist Alexis Dean-Jones and produced + shipped with the help of the Yetee! There are 2 points for this pin to fasten with so it's extra-stable, and so you can angle it any way you like! 
A sticker sheet of black-and-white in-game characters designed by game artist Alexis! 
A backer-exclusive t-shirt, designed by game artist Madeline Berger! 
Your art in the game! Your black-and-white drawing or writing could appear in an art gallery, scratched on a tree, as graffiti on a wall, a picture in someone's house, or somewhere else! 
We'll draw you an animal portrait! Immortalize yourself, your friend, your pet or your OC as a character in the style of the game.
You can design a piece of clothing that can be collected and worn in-game!
Your character will appear in-game! We'll make an animal character based on you, a friend, a pet, or something original… and place them in the world of Picnic as a character you can meet!
We here at myPotatoGames can't wait to help Chicory paint the whole world! Most importantly, you'll be able to too when the game releases sometime in "202X" on Steam (PC, Mac).