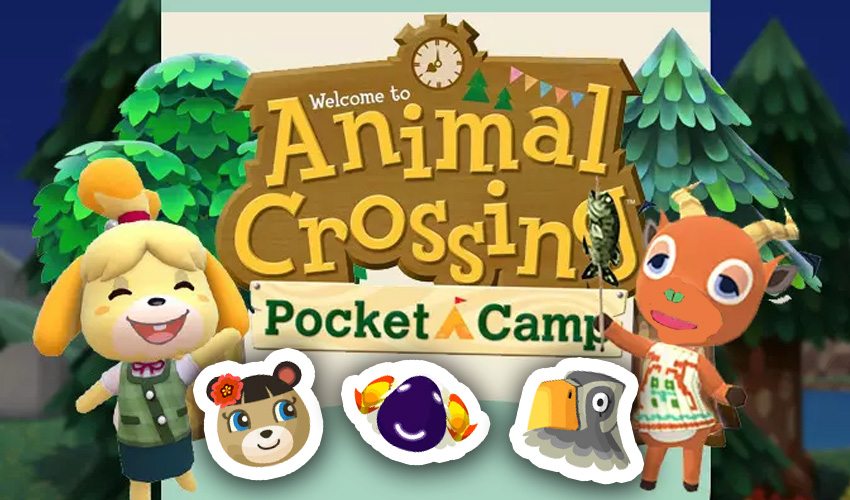 Animal Crossing Pocket Camp – New Villagers, Furnitures and more!
How do you feel about this story?
Nintendo has just recently released an update for Animal Crossing Pocket Camp. According to Nintendos official patch notes, Version 1.0.2 has not brought more than just a few bug fixes. However, users on reddit have looked deeper into the latest update and found some interesting details. The latest update will bring new furniture, holiday events, and even new villagers. Furthermore Clothe Crafting will soon be enabled as well.  Check out the full list below.
Version Codes; 1.0.0 was lwO34 (11/20/2017), 1.0.2 is QZHCL (11/25/2017)
Timing changes; According to the Japanese ACPC twitter several timing changes have occurred and are probably in this update. Click here for more info.
Notice on Timing Changes; A notice was put out InGame regarding the timing changes to help with the server overloard. Click here for more info.
Catalog Adjustment; Default flooring and wallpaper from camper were added to the catalog
NEW VILLAGERS & FURNITURE; Currently being datamined, and a pastebin listing names of villagers and furniture as well as images will be up shortly (Thanks to bluesun). Currently found are 11 new villagers, and 76 new pieces of furniture. These furniture are a mix of christmas and new year (zodiac) stuff, as well as clothing and extra furniture.
New theme and amenities; As stated above, will update as soon as bluesun finishes pull out the assets.

Villager names: Antonio, Mitzi, Bluebear, June, Goose, Drake, Raddle, Phoebe, Avery, Vesta, Marashal
Villager Portraits: https://imgur.com/a/Uo7MQ
Villager heads: https://imgur.com/a/HAPNR
Clothing: https://imgur.com/a/eGBBg
Google Play Clothing: There is mention in a text string that there's an "Android-exclusive present from Google Play". These are the 3 pieces that associate with that, https://imgur.com/a/XmEIr
Amenities: https://imgur.com/a/TqRyB (It's 1 amenity set, just 1 variants signifying Lv1 vs Lv 3/5 since last level has upgraded looks)
Furniture: https://imgur.com/a/XQkhT
Crafting Materials: https://imgur.com/a/EEcLE
New Furniture Categories: Holiday 2017, New Year's 2018, Event Challenge, Host the Most, Friend Frenzy, Event Challenge,
New Catalog Categores: tourism, medical, alpine series, office, sloppy series, New Year's 2018, Holiday 2017
New Theme & Essence: Rustic
Text files: containing everything added in is here
Villager descriptions: All new villager descriptions are in here
New Banners: All the new banners on upcoming animals (May be 2 waves), Party Packs, and Special Offers (For Holiday + New Year furniture) https://imgur.com/a/M4cDu
How do you feel about this story?