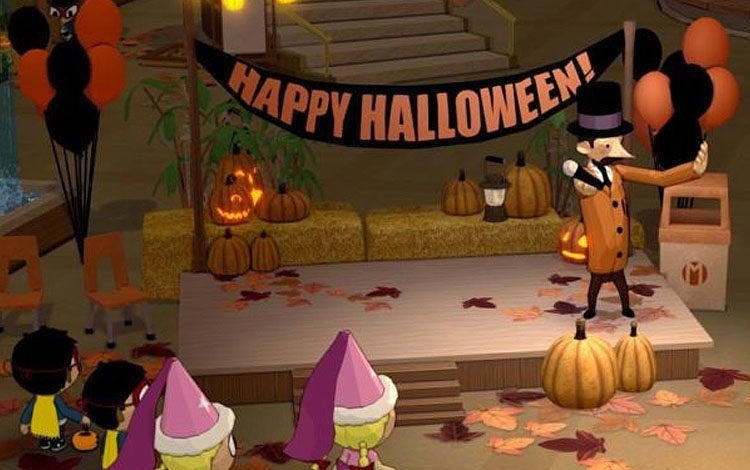 Event
5 Not-Too-Scary Games To Play This Halloween
If you're a jumpy, easily-scared person like myself, It can sometimes be hard to join in with Halloween fun. You're too old to get away with too old for trick or treating, but don't particularly want to watch The Exorcist with your mate. But have no fear (literally), as we've compiled 5 great not-too-scary games that you can enjoy this Halloween.
Night In The Woods
Night in the Woods is an autumnal themed indie adventure game. Highly relatable to many, the game shows the crumbling former mining town of Possum Springs. After the protagonist, Mae Borowski drops out of college and returns to her hometown, she finds things as gloomy and hopeless as ever. But this time there's something more. Strange and eery occurrences are happening. And there's something in the woods. This charming game with beautiful music can be played on PlayStation 4, Nintendo Switch, Microsoft Windows, Linux, Xbox One, Android, Macintosh operating systems, and iOS.
Costume Quest & Costume Quest 2
Costume Quest is a Halloween-themed party-based RPG game. The game is developed by Double Fine Productions and published by THQ. The player controls a kid who is out trick-or-treating with their twin sibling. When their twin is kidnapped by a monster, the player must travel around the neighborhood and collect candy, items for their costume, and other children to aid them in fighting the monster and rescuing their sibling. The game was released on October 19th, 2010, and can be played on Microsoft Windows, PlayStation 3, Xbox 360, Mac OS X, Linux, iOS, and Android. The game's sequel, Costume Quest 2 was released on October 31st, 2014.
Luigi's Mansion: Dark Moon
Luigi's Mansion: Dark Moon (also known as Luigi's Mansion 2 in Europe and Australia) is an action-adventure video game for Nintendo 3DS. The game was released in Japan on March 20, 2013, and most other regions later on that month. The game is the sequel to the 2001 Gamecube game, Luigi's Mansion. Luigi's Mansion 3 is set to be released for Switch at some point during 2019.
The protagonist of the game is Luigi, who is sent by Professor E. Gadd to explore spooky abandoned mansions, inside which hostile poltergeists reside. Using the Poltergust 5000 (which resembles a vacuum cleaner), Luigi is entasked with capturing the ghosts and ultimately retrieving a Dark Moon fragment.
Little Nightmares
Little Nightmares is a stop-motion-esque game, with an environment uncomfortably reminiscent of one's childhood nightmares. The game is a puzzle-platformer horror adventure game that utilizes imagery, empathy, and strange and bizarre encounters (as opposed to overused jump-scares) in order to evoke a sense of horror. With the PC version of the game garnering a score of 81/100, critics praised the game's atmosphere, graphics, and audio.
Thimbleweed Park
Thimbleweed Park is a puzzle-mystery game that features pixel graphics. The tiny town of Thimbleweed Park is home to 80 very strange people. Five people with nothing in common are drawn to the town. Although they might not yet know it, they are all deeply connected. They're also all being watched. From a rotting corpse to an abandoned circus, the game is a far cry from Stardew Valley. The game is available to play on Xbox One, Microsoft Windows, Android, iOS, Nintendo Switch, Linux, and Mac.